Press release
Leading charities pledge support for £1 billion Youth Contract to tackle unemployment
Leading organisations are formally backing the government's programmes to make sure young people are earning or learning.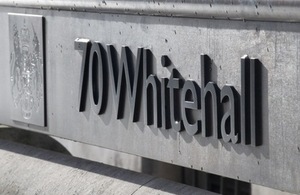 Leading organisations from the Voluntary and Community and Social Enterprise Sector are formally backing the government's flagship programmes to ensure every young person is either earning or learning, ministers have announced today.
Through the Youth Contract and ongoing Apprenticeships programme there is more support available to employers who want to offer sustainable jobs, training and work experience opportunities to unemployed young people. Ministers want to send a clear signal that this support is available to all VCSE employers.
At a roundtable discussion with charity leaders, ministers welcomed the support from some of Britain's biggest charities including Mind, Groundwork and the NSPCC. Membership organisations the Association of Chief Executives of Voluntary Organisations (ACEVO) and the National Council for Voluntary Organisations (NCVO) will also encourage their members to consider the opportunities offered by the scheme.
Earlier today Employment Minister Chris Grayling, Apprenticeships Minister John Hayes and Nick Hurd the Minister for Civil Society met with senior charity representatives, to hear from them about how they offer young people work, training and apprenticeships in their organisations and discuss the Youth Contract.
Nick Hurd Minister for Civil Society said:
We must ensure that we harness the energy and innovation of our young people and ensure that they get sustainable jobs with career development opportunities. The government recognises that VCSE organisations have unique skills and experience in addressing this important issue. We are engaging the sector to ensure they are given a full opportunity to be involved in this programme.
Minister for Employment Chris Grayling said:
We want to harness the experience from all sectors to make sure we get it right on youth unemployment.  We want young people to enter the labour market with the skills, training and experience required to secure sustainable employment. But we can't do this alone, that is why today we are meeting with voluntary sector organisations and welcoming them on board with the Youth Contract.
Minister for Apprenticeships John Hayes said:
With the biggest and best apprenticeships programme in our country's history underway, an unprecedented number of young people are taking these opportunities to build long, fulfilling and productive careers. Now, we are supporting our leading charities to provide the same gold-standard training in the voluntary sector. This government is committed to raising quality standards and to making it easier for employers across all sectors to take on apprentices, in part by cutting bureaucracy and providing cash incentives.
Paul Farmer, Chief Executive of Mind said:
It is encouraging that ministers recognise the important role of the sector both as an employee and a provider to help young people find and stay in work. The package should give opportunities to disabled young people to start careers.
Sir Tony Hawkhead, CEO of Groundwork UK said:
Take a young person on as an apprentice and you improve their employment prospects instantly.  The future of this country depends on equipping our young people with the right skills now - and giving charities the incentive through the wage subsidy element of the Youth Contract means we can all play our part in doing just that.
Ben Kernighan, Deputy Chief Executive of the National Council for Voluntary Organisations (NCVO), said:
Addressing youth unemployment is one of the biggest challenges facing the country. I urge voluntary organisations to consider the opportunities that the youth contract may offer, including taking on apprentices, creating jobs supported by new wage subsidies and providing support to young people not in education, employment or training.
Mark Gibson, Managing Director - BTCV Employment & Skills said:
The New Youth Contract, Work Programme and Growth in Apprenticeships will positively address a need for young people to be economically active and give them hope for their future.  BTCV will be working positively with the Prime Contractors, DWP and SFA to see how it can harness various funding streams to help create employment, improve young people's long-term employment prospects while delivering green space improvement that is at the heart of what BTCV achieves day in and day out through people of all ages.
Peter Holbrook, Chief Executive of Social Enterprise UK, said:
Our research shows that lots of young people are starting their own social enterprises, many in the UK's most deprived communities, where jobs are scarce.  Social enterprises also have a strong track record, providing training and jobs to some of those most in need of opportunity and meaningful futures.  We would be delighted to see this government initiative support greater numbers of young people into training and employment.
Stephen Jeffrey, Chief Executive, Fairtrain:
Fairtrain welcomes the initiative presented through the Youth Contract. We look forward to working with ministers to increase the number of people on training and in apprenticeships in the third sector.
Through the Youth Contract, DWP will be providing 160,000 Wage Incentives worth up to £2,275 to employers who recruit 18 to 24-year-olds who are unemployed, claiming benefits and participating in the Work Programme. Employers in the voluntary, charity and social enterprise sector who can offer sustainable jobs to young people will be able to benefit from the Wage Incentive.
The Youth Contract supports the creation of an additional 250,000 work experience places through the Department for Work and Pension's work experience and sector-based work academies programmes.
Employers can register their interest in supporting the Youth Contract and find out more.
Published 8 February 2012