News story
Leadership central to police reform
The Home Secretary said she would look at widening the pool of talent from which police leaders are drawn during a speech to the Police Superintendents annnual conference at Kenilworth this afternoon.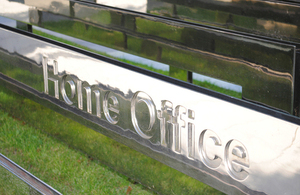 'Police leaders of the future might not have all started out as Police Constables twenty years before', she said.
'Many still will, of course. There are obvious benefits in senior officers having served as constables', the Home Secretary explained.
'But it is also clear that there is much that the police can learn from senior people outside policing, just as every other organisation can learn from an external perspective.'
Lives on the line
In a wide-ranging speech to the 'Supers', the operational leaders of the police service, the Home Secretary also praised the police response to the riots over the summer.
'It was police officers who put their lives on the line to stop the rioters. It was police officers who protected innocent people and defended local businesses. It was police officers who acted courageously to restore order to our streets.'
Lessons
The government is learning lessons from the riots, the Home Secretary explained. She referred to cross-government work she is leading with Iain Duncan Smith to tackle the gang 'life cycle' and highlighted the importance of learning the operational and legal lessons. Her Majesty's Inspectorate of Constabulary (HMIC) are currently undertaking a review to ensure police have the 'tactics, guidance and training' to deal with what the Home Secretary described as 'a potentially new era of public order policing'.
Leadership and reform
Speaking the day after announcing the appointment of Bernard Hogan-Howe as Metropolitan Police Commissioner, the Home Secretary returned to the theme of strong leadership and the need for a corresponding drive to improve accountability.
'Reform will protect police jobs allowing you to have the flexibility to keep your officers on the frontline', she told the audience.
'If we take on the challenge of reform - if we seize the opportunity to improve - then police officers, the police service and - most importantly - the public will be the winners.'
A copy of the full speech can be read here.
Published 13 September 2011