Launch of the British Alumni Network in Uzbekistan
Her Majesty's Ambassador Mr George Edgar officially launched the British Alumni Network of Uzbekistan.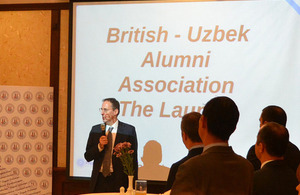 As part of this year's celebration of the 30th Anniversary of the Chevening Global Scholarships Scheme, Her Majesty's Ambassador Mr George Edgar officially launched the British Alumni Network of Uzbekistan (BANU).
Over 40 alumni of prestigious British Universities, many of them winners of UK government scholarships, gathered in the Hotel Miran International in Tashkent to take part in the launch of the British Alumni Network of Uzbekistan (BANU) The aim of the Network is to bring together the graduates of British Universities living in Uzbekistan, including alumni of the UK government's prestigious Chevening scholarship scheme, promote understanding of UK educational values, coordinate joint activities between the alumni and other institutions in Uzbekistan and implement various activities for the benefit of local communities.
The Chairperson of BANU, Mr Bobir Komilov, a Chevening alumnus, who graduated from the City University of London in 2008, presented the goals of the Network. He said BANU would serve as a platform for networking and mentoring, and would contribute to promoting a continued partnership between Uzbekistan and the UK.
Speaking at the opening ceremony, Ambassador Edgar said: "The UK education system is renowned worldwide for its excellence. The UK is home to the top four universities in Europe and four of top ten universities in the world. UK universities are world leaders in innovation and research, and have produced over 70 Nobel prizes winners.
Around 400,000 international students, including students from Uzbekistan, come to the UK every year to study, making UK colleges and universities some of the most diverse and cosmopolitan in the world. And the UK is the home of the English language. A further 600,000 people come to the UK each year to study English only.
The establishment of BANU will further strengthen the strong bonds that exist between the UK and Uzbekistan. I welcome the fact that increasing numbers of young Uzbek nationals have enjoyed studying at the UK's world class schools and universities. BANU will create a strong base for alumni of UK institutions, and provide support and advice for citizens of Uzbekistan who want to benefit from UK education in the future".
Published 4 November 2013