Launch of new anti-corruption group in Afghanistan
An independent Monitoring and Evaluation Committee (MEC) to tackle corruption in Afghanistan has been launched in Kabul.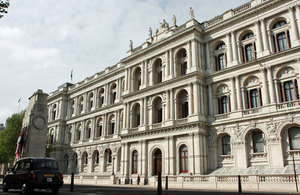 The launch of this committee marks a major milestone in the effort to tackle corruption in Afghanistan.
The MEC was a significant commitment made by the Government at the Kabul and London conferences last year, and its inauguration demonstrates the commitment of the Afghan Government and international community to work together on tackling corruption.
At the inauguration ceremony in Kabul last week, Michael Keating of the United Nations Assistance Mission in Afghanistan (UNAMA) told the audience: "The MEC itself is significant. Its presence represents collective efforts to fight corruption, and it's a powerful sign of the Government's and President's determination. The UN is pleased to have such a truly exceptional group of people on the MEC, bringing experience to bear from three continents."
The Committee is made up of three Afghan and three international experts, and is chaired by Mohammad Yasin Osmani, former head of Afghanistan's High Office of Oversight. UK aid is helping to fund the work of the committee.
The international members of the MEC are anti-corruption heavyweights who have led anti-corruption campaigns in their own countries, and the Afghan members are highly experienced in dealing with the issue in Afghanistan. The members have underlined their commitment to working together to share their expertise to make progress on tackling corruption.
Mr. Osmani said: "The inauguration of this committee marks an important step in the efforts to fight corruption in Afghanistan. Fighting corruption is a complex task but the establishment of this committee shows a strong commitment by all parties, both Afghan and international, to work together to tackle this problem.
The MEC will use the Afghan Constitution, the United Nations Convention against Corruption and other international standards as frameworks, as well as bringing in best practices from other countries..It will also closely coordinate its work with stakeholders involved in anti-corruption here in Afghanistan. The MEC will meet in Afghanistan on a quarterly basis.
Biographies of MEC members:
Dragos Kos (current Chairman of the Council of Europe's Group of States Against Corruption and President of the Commission for the Prevention of Corruption in Slovenia)
Nuhu Ribadu (former Head of the Nigerian Economic and Financial Crimes Commission in Nigeria)
Erry Hardjapamekas (former vice chairman of the Indonesian Corruption Eradication Commission)
Azam Dadfar (former Afghan Minister for Higher Education, and former Minister of Refugees and Repatriation)
Yasin Osmani (previous director general of the High Office of Oversight, and adviser to the President of Afghanistan)
Dr Sidiqullah (former deputy head of office of UNAMA, in Kandahar)
Search the news archive
Published 18 May 2011