Press release
Latest CAP leaflet includes important details on active farmer rule
Key information about active farmer rules and land uses and features included in new CAP Countdown leaflet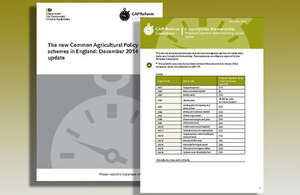 Farmers in England with at least 36 hectares of eligible land will qualify as an active farmer under the Basic Payment Scheme (BPS).
This simplified version of the rule is part of Defra's commitment to make the new Common Agricultural Policy (CAP) rules as simple and flexible as possible and the details are included within the latest CAP Countdown leaflet, which has been published on GOV.UK today (19/12).
This leaflet also includes key information on what land uses and features are eligible for BPS. It confirms the activities which do not affect BPS payments, such as bird watching and nature/farm visits by schools.
It also lists uses and events which will not affect payment if they do not last more than 28 days in one calendar year. This includes clay shooting, country fairs and car boot sales.
The leaflet, which is the fourth in a series of updates, also includes a table which will help farmers and landowners know what land features are eligible for BPS.
Rural Payments Agency (RPA) External Relations Director Arik Dondi said:
This leaflet provides more clarity and detail on parts of the new scheme which were announced earlier in the year.

It is part of our ongoing commitment to keep customers informed as and when more detail is known.

It aims to help people understand how it will affect them and what they need to do and by when to move as smoothly as possible to the new schemes.

It includes key details which farmers need to know now.
The leaflet is part of a drive by Defra, working with the RPA, Natural England, Forestry Commission and the Rural Development Team to ensure people know how the information affects them and what they need to do.
It also includes Countryside Stewardship information which has previously only been available electronically.
E-mail versions of the leaflet will be sent to customers in the next few days with hard-copy versions posted at the end of the month.
The information from all four CAP Countdown leaflets will be included in the Basic Payment Scheme guidance which will be published early next year.
Anyone interested in reading more about CAP Reform and the discussions that are taking place should go to the CAP Reform homepage.
Published 19 December 2014