Press release
Latest bowel cancer screening technique reaps benefits
PHE figures show that the roll out target of screening centres offering the latest bowel cancer screening test has been exceeded.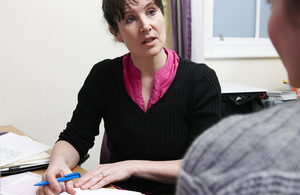 New figures released today, 31 March 2014, from Public Health England (PHE) show that nearly 37% (36.6%) of bowel scope screening centres in England are operational, clearly exceeding the 30% roll out target, set by the Department of Health in their 'Improving Outcomes: A Strategy for Cancer' document (2011).
Bowel scope screening, also known as flexible sigmoidoscopy, is a one-off test offered to men and women at the age of 55. This type of screening examines the lower part of the bowel – the part where most bowel cancers are found. The aim is to find any small growths called polyps which may develop into bowel cancer if left untreated.
Bowel scope screening prevents cancer, and is a complementary screening procedure to the current faecal occult blood (FOB) home test kit, which is offered to men and women between the ages of 60 to 74. The FOB test checks for the presence of blood in a stool sample, which could be an early sign of bowel cancer. Both screening procedures are offered as part of the NHS Bowel Cancer Screening Programme, which is managed by PHE.
Professor Julietta Patnick, PHE Director of the NHS Cancer Screening Programmes, said:
This positive news clearly demonstrates how hard screening centres have worked to ensure that they are able to offer bowel scope screening to eligible men and women. The phased roll out approach has proved to be successful as it ensures that centres are fully equipped to carry out this procedure.

The benefit of bowel scope is that it prevents bowel cancers from developing in the first place. It examines the part of the bowel where most cancers are identified. The risk of bowel cancer increases with age, with over 80% of bowel cancers arising in people who are 60 or over. Therefore, offering this form of screening to men and women at the age of 55 will play a significant role in identifying any abnormalities, at an early stage, that could develop into bowel cancer if not detected. We encourage all eligible men and women to attend their bowel screening appointment, when invited.
Deborah Alsina, Chief Executive of Bowel Cancer UK said:
People are dying unnecessarily of bowel cancer when it is, in fact, preventable, treatable and curable. The successful initial roll out of bowel scope screening is therefore excellent news because it has been proven to prevent and detect bowel cancer early. I urge anyone invited to take part as it could save your life. Quicker implementation of the bowel scope screening programme means more lives will be saved, so we congratulate Public Health England on this excellent news.
Commenting on the significance of bowel scope screening, Mark Flannagan, Chief Executive of Beating Bowel Cancer, said:
Bowel cancer is a very treatable condition when caught early, which is why screening is so vital.

Bowel scope is an important step forward and is an opportunity to save thousands of lives. We'd encourage everyone who gets an invitation to screening to take it up as any delay could be life-threatening.
Sara Hiom, Director of Early Diagnosis at Cancer Research UK, said:
It's great to see that bowel scope, a screening test that Cancer Research UK helped fund and develop, is now ahead of schedule. Once the programme is fully rolled out it could save up to 3,000 lives a year and prevent a third of bowel cancers in those screened, so it's essential that bowel scope is rolled out as quickly as possible.
'Improving Outcomes: A Strategy for Cancer', stated that the Department of Health would invest £60million between 2011 and 2015 to incorporate flexible sigmoidoscopy into the current bowel screening programme. A 30% target of bowel scope roll out was set to be achieved by March 2014.
In early 2011, 6 centres were chosen to run a pilot on bowel scope screening: South of Tyne (Queen Elizabeth and South Tyneside), West Kent (West Kent and Medway), Norwich, St Marks (London), Wolverhampton and Surrey (Guildford).
A further 16 first wave centres commenced during 2013 to 2014 in order to achieve 30% roll out by 2014. To achieve 60% roll out by March 2015, wave 2 will consist of at least 20 local screening centres. The remaining local screening centres would be invited to begin wave 3 in 2015 to 2016 with full roll-out in 2016.
The NHS Bowel Cancer Screening Programme, which was introduced in England in 2006, is one of the first national bowel cancer screening programmes in the world and the first cancer screening programme in England to invite men as well as women. The existing screening programme offers the FOB test, every 2 years, to all men and women, aged 60 to 74, who are registered with a GP.
Bowel cancer screening finds bowel cancers at an early stage in people with no symptoms when treatment is more likely to be effective.
Ends
Notes to Editors
The operational pilot bowel scope screening centres are:

South of Tyne (Gateshead Health NHS Foundation Trust)
West Kent (Dartford & Gravesham NHS Trust)
Norwich (Norfolk & Norwich University Hospitals NHS Foundation Trust)
St Marks (North West London Hospitals NHS Trust)
Wolverhampton (Royal Wolverhampton Hospital NHS Trust)
Surrey (Royal Surrey County Hospital NHS Trust)

First wave screening centres:

Calderdale, Kirklees & Wakefield (Calderdale & Huddersfield NHS Foundation Trust)
Lancashire (Blackpool, Fylde and Wyre NHS Foundation Trust)
South Devon South Devon Healthcare NHS Foundation Trust)
Bradford & Airedale (Bradford Teaching Hospitals NHS Foundation Trust)
Tees (North Tees and Hartlepool NHS Foundation Trust)
County Durham & Darlington (County Durham & Darlington NHS Foundation Trust)
Kettering (Kettering General Hospital NHS Foundation Trust)
Sandwell & West Birmingham (Sandwell & West Birmingham Hospitals NHS Trust)
Manchester (Central Manchester University Hospitals NHS Foundation Trust)
Cheshire (The Mid-Cheshire NHS Foundation Trust)
Aintree (Aintree University Hospitals NHS Foundation Trust)
North of Tyne (Northumbria Healthcare NHS Foundation Trust)
Bristol & Weston (University Hospitals of Bristol NHS Foundation Trust)
Somerset (Taunton & Somerset NHS Foundation Trust)
St George's (St Georges Healthcare NHS Trust)
Pennine (Pennine Acute Hospitals NHS Trust)

Bowel scope screening, also known as flexible sigmoidoscopy, is a one-off test offered to men and women at the age of 55. It is normally used as a routine outpatient appointment procedure to examine the inner lining of the lower large intestine - the part where most cancers are found. It can also be used to evaluate gastrointestinal symptoms, such as abdominal pain, rectal bleeding, or changes in bowel habit.

From April, the NHS Bowel Cancer Screening Programme will be piloting the Faecal Immunochemical Test (FIT), which can quantify the amount of blood found in a stool sample. It has a number of potential advantages over the current test (FOB) as it might be more accurate and more acceptable to use.

Beating Bowel Cancer is a charity that works to support all those affected by bowel cancer, as well as improving awareness of the condition and promoting early diagnosis. For more information about bowel cancer visit the Beating Bowel Cancer website or call the charity's helpline on 08450 719 301.

Cancer Research UK is the world's leading cancer charity dedicated to saving lives through research. Cancer Research UK's pioneering work into the prevention, diagnosis and treatment of cancer has helped save millions of lives. For further information about Cancer Research UK's work or to find out how to support the charity, call 0300 123 1022 or visit the Cancer Research website.

Find out more information about the NHS Bowel Cancer Screening Programme.

Public Health England's mission is to protect and improve the nation's health and to address inequalities through working with national and local government, the NHS, industry and the voluntary and community sector. PHE is an operationally autonomous executive agency of the Department of Health. www.gov.uk/phe.

Follow us on Twitter @PHE_Screening
PHE screening press office
Published 31 March 2014