Last chance to save The Crouching Venus sculpture, a pair of Italian baroque console tables and an Italian Empire Athénienne
Culture Minister places temporary export bar on significant and rare items.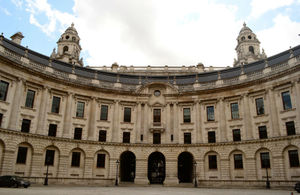 The Minister's rulings follow recommendations by the Reviewing Committee on the Export of Works of Art and Objects of Cultural Interest, administered by Arts Council England.
The items saved are:
A white marble sculpture dating from 1702 of The Crouching Venus. The sculpture is a rare surviving example of a classical subject in marble carved by the Netherlandish sculptor John Nost the Elder (d. 1710) working in England. Sculpture image on Flickr.
A pair of Italian baroque console tables that appear to have been made to celebrate the Venetian conquest of the Morea, or Greek Peloponnese, between 1685 and 1688. The pictorial marquetry tops are by Lucio de Lucci (fl. 1680-1700) and are made of different European and exotic hardwoods embellished with stained horn, ivory and pewter. The boxwood bases are attributed to the famous wood carver Andrea Brustolon (1662-1732), described by Balzac as the "Michelangelo of wood". It is possible that they were made for the commander of the Venetian forces, Doge Francesco Morosini. They form part of a group of six tables by Lucio and Antonio de Lucci depicting events in the re-conquest of Eastern European territory from the Turkish Empire. This pair of tables is thought to have been acquired by the 5th Duke of Buccleuch during the 1830s and was sold by the 8th Duke in 1971. Console tables image on Flickr.
A North Italian Empire Athenienne. This ornate wash basin on stand was designed by Luigi Manfredini and made in Milan in 1813. Produced when Emperor Napoleon Bonaparte ruled much of Europe it may possibly have been given to the French Imperial Family by Napoleon's stepson, Eugene de Beauharnais, Viceroy of Italy. Made in the Neo-classical style it is based upon a Roman tripod stand discovered at Herculaneum on 18 July 1748 and is decorated with ormolu mounts and the vibrant blue stone lapis lazuli. The stand is topped by a finely chased sliver-gilt bowl depicting the gods 'Neptune and Amphitrite'. Athenienne image on Flickr.
The Culture Minister's rulings will provide a last chance to raise the money to keep these items in the United Kingdom. 
Offers of interest
Anyone interested in making an offer to purchase any of the items should contact the owners' agents through:
 
The Secretary
The Reviewing Committee on the Export of Works of Art and Objects of Cultural Interest
Arts Council England
14 Great Peter Street
London
SW1P 3NQ
0207 973 5259
Further information
Published 4 November 2011