Last chance to save historic artefacts
Culture Minister defers export of a George II medal cabinet, a Chinese porcelain casket and a 16th century table top.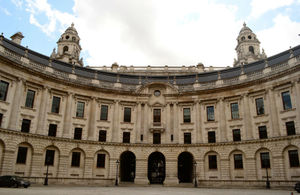 Ed Vaizey has placed temporary export bars on 3 outstanding items, providing last chances to raise the money and keep the pieces in the UK:
George II ivory mounted padouk medal cabinet
Known as 'The Brand Cabinet', this rare example was made for Thomas Brand MP around 1750, combining fine woods and ivories.
The design is similar to that of a cabinet made in 1743 for Brand's close friend, Horace Walpole, son of the first British Prime Minister, Sir Robert Walpole.
Both cabinets share a unique design, with no other wall-mounted ivory decorated cabinets known to exist. Of the two the Brand Cabinet is considered to exhibit a purer architectural form.
Chinese porcelain casket with European mounts
This magnificent object is cleverly formed of three different styles of Chinese porcelain plaques, made during the Kangxi period (1662-1722). Its design includes: peonies and butterflies, prunus with birds, stunning landscapes and the 'hundred antiques' pattern, a design featuring objects which symbolise Chinese culture.
South German marquetry table top
The table top, which dates from the mid-sixteenth century, was intended to celebrate the military acumen and political courage of the Holy Roman Emperor, Charles V, who abdicated voluntarily in 1556. The design is intended to be seen from all sides, perhaps suggesting the multi-facetted challenges of imperial rule. Unlike a lot of early furniture, it retains much of the pristine impact that it would have had when originally produced as an exceptional luxury object.
The Minister's rulings follow recommendations by the Reviewing Committee on the Export of Works of Art and Objects of Cultural Interest, administered by Arts Council England.
How to make an offer
Read further details about each item and how to make an offer to purchase:
Further information
Published 13 December 2012