Press release
Landmark reform to help elderly with care costs
The Coalition Government is today announcing unprecedented support for the elderly in paying for their long-term care costs.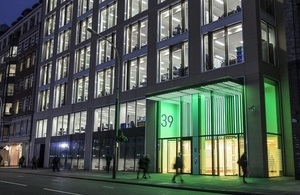 As part of the Mid-Term Review, the Government is introducing major, long-term reform that will mean no one who has worked hard throughout their life will be forced to spend all of their savings or sell their home in their lifetime to pay for care.
One of the Coalition's first acts was to commission Andrew Dilnot to look at how best to protect people from high and unpredictable social care costs. These reforms set out how, for the first time ever, people will be protected from limitless care bills.
The radical package includes:
A cap on costs at £75,000. Currently, no cap exists leaving many facing vast bills, with almost 1 in 5 older people facing care costs over £75,000. From 2017, the Government will pay for care costs incurred by individuals over this level, equivalent to around £61,000 when compared to the 2010/11 prices used by Mr Dilnot.
A new means test threshold of £123,000. The Government will step in earlier to pay a proportion of residential care costs, with the threshold more than quadrupled. In future, people will no longer need to be down to their last £23,000 before they get help - the help starts at £123,000, as recommended in the Dilnot report.
Taken together the measures are expected to directly benefit an extra 100,000 people who would not currently receive support under the existing system.
The Government will also take forward other crucial reforms proposed by Andrew Dilnot including:
Free care given to those who turn 18 with eligible care needs;
A lower cap for people of working age who develop care needs before retirement age; and
From April 2015, no one will have to sell their home in their lifetime to pay for residential care, with those unable to afford the fees given the right to defer paying during their lifetime.
These reforms will cost the Exchequer £1 billion a year by the end of the next Parliament. The cost will be met in part by extending the freeze on the Inheritance Tax threshold at £325,000, or up to £650,000 for couples, by three years from 2015-16. The remainder will be funded from extra headroom created by private and public sector employer National Insurance Contributions associated with the end of contracting out as part of the introduction of the Single Tier Pension.
Given the other pressures on the public finances the Government considers £75,000 to be the right level at which to set the cap.
The cap is expected to benefit women in particular who are more likely than men to both need care and be a carer. Women make up 68 per cent of service users aged over 65.
With increased certainty over the cost of care, Ministers want to see the financial services industry bring forward products that will allow people to plan and insure for future care costs.
Health Secretary, Jeremy Hunt said:
This is a watershed moment for our country. For too long, the issue of social care has been ducked by successive governments, leading to an unfair system that has seen people selling their homes and losing nearly everything they've worked for to pay for their care. With us, that unfairness is ending.
These historic reforms will give everyone the protection they want in their old age and save the family home. And they prove once again that despite these tough economic times, this government is determined to get behind everyone who has worked hard and done the right thing and aspires to a better life for themselves and their children.
Under the reforms, people will have an assessment carried out by their local authority. If they are assessed as having eligible care needs, the local authority will tell them how much it would cost for the local authority to meet those needs with local services. These costs will count towards the cap.
Care and Support Minister Norman Lamb said:
Scrapping the existing system which leaves people facing the fear of unlimited bills in their later years is the right thing to do._
These reforms will end an inequality that sees those with the least wealth spending the greatest proportion of their life savings and will bring protection and reassurance to everyone.
With an ageing population at a time of financial difficulties, we've taken tough decisions to bring about real reforms that will give everyone a more certain future."_
NOTES TO EDITORS
The proposals in the Care and Support Bill will be revised to include the cap, and subject to the passage of legislation, people will be provided with a new legal right to protection from very high care costs, which has not existed before.
The cap, combined with the extending the means test for financial support, will give greater financial protection for those with modest wealth. By assessing people's ability to pay based on their assets, homes and income we will ensure that people with the least get the most support. Currently only those with assets of less than £23,250 and low income receive help from the State with their care costs.
The increased threshold of £123,000 in 2017 prices is equivalent to the £100,000 recommended by Dilnot in 2010/11 - this means the point at which people are considered for state support will be more than four times higher than under the current system.
Published 11 February 2013