News story
Land Registry wins diversity award
The enei recognises Land Registry's commitment to achieving a diverse and inclusive workplace.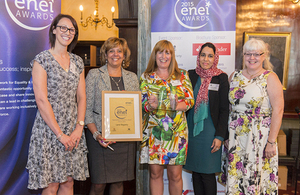 On 14 July, Land Registry won the Representative Workforce Award at the enei (Employers Network for Equality and Inclusion) awards ceremony.
The Representative Workforce Award recognises our efforts to implement extensive internal diversity monitoring for staff which provides us with a more accurate picture of the profile of our workforce. Understanding the composition of our workforce has enabled us to identify, tackle and prevent issues that would otherwise undermine employee engagement and productivity.
Julie Dennis, Head of Diversity, said: "Land Registry is committed to creating an inclusive working environment to take advantage of the benefits that a diverse workforce offers. This in turn helps us to better serve our customers. We were delighted to win this prestigious enei award which recognises the work we've done in this area."
The enei awards nationally recognise and celebrate the achievements of organisations that have taken a lead in challenging discrimination and are working inclusively to tap into their talented workforce
Read more about how we promote equality and diversity.
(Photo credit: Alastair@FyfePhoto.com)
Published 15 July 2015