World news story
Kosovo Security Forces Officer Makes History
Kosovo Security Force representative wins the Overseas Sword at Royal Military Academy, Sandhurst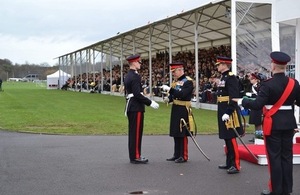 Officer Cadet Ismail Hoxha from the Kosovo Security Force (KSF) has won the Overseas Sword at the Royal Military Academy Sandhurst (RMAS), after 12 months at this renowned institution. The Sword is awarded to the best overseas cadet on each course and Officer Cadet Hoxha was presented his sword by His Royal Highness The Prince of Wales.
This is the first time a member of the KSF or any other military representative from the Western Balkans has ever won the Overseas Sword. This is a great achievement from a young officer from the youngest State in Europe.
Officer Cadet Hoxha graduated on 11 December at the Sovereign's Parade RMAS, alongside two other Kosovar cadets, Fitore Fazliu and Besfort Kruma. This is the largest group of KSF officers to be commissioned from Sandhurst in any one year.
Officer Cadet Hoxha said:
I am extremely honoured to be awarded the sword and it's one of the proudest days of my life.
Lieutenant General R Rama, Commander KSF, who attended the Sovereign's Parade said:
This is a historical day for Kosovo and the KSF. It is a fantastic achievement for all three officers graduating today and especially Officer Cadet Hoxha. We must thank the United Kingdom for their continual support, investment and partnership in building our leadership capacity.
The British Ambassador to Kosovo, Ruairí O'Connell, said:
Officer Cadet Hoxha represents the very best not just of the KSF, but of the youth of Kosovo. He has shown what can be achieved with dedication, responsibility and hard work: Kosovo can compete with the best the world has to offer. It will be the people of Kosovo, including the KSF, who build their future, but the United Kingdom is committed to helping them.
Notes for editors
The Royal Military Academy Sandhurst (RMAS) is the world-renowned Officer Training school for the British Army. The present Royal Military Academy Sandhurst was founded in 1947 with the merger of two institutions: the Royal Military Academy, Woolwich and the Royal Military College, Sandhurst. RMAS develops leadership in cadets by expanding their character, intellect and professional competences to a level demanded of an Army Officer on first appointment through military training and education. The course is accredited by various academic and professional institutions. The Commissioning Course lasts 44 weeks and must be successfully completed by all British regular army officers (with some exceptions) before they receive their commission. It is usually followed by further training courses specific to the Regiment or Corps in which the officer will serve.
Published 11 December 2015