World news story
Kosovo Security Force wins Gold in Exercise Cambrian Patrol
Kosovo Security Force team awarded Gold Medal in the British Army's prestigious Exercise Cambrian Patrol challenge in Wales.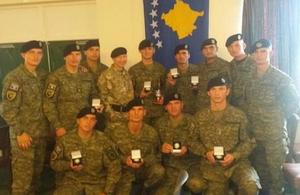 Eight members of the KSF's Rapid Reaction Brigade have been awarded a gold medal in the British Army's prestigious and extremely challenging patrolling and military skills exercise, 'Cambrian Patrol'. The exercise tests leadership, teamwork, physical fitness and the ability to accomplish a mission, in the process completing a variety of military skills. One hundred and twenty one teams entered this year's competition - not all finished!
This is the first time the KSF has attended this event. Kosovo was among 18 countries that were invited to compete alongside teams from across the British armed forces.
Ambassador Ruairí O'Connell said:
Congratulations to the KSF Team. Another gold medal for Kosovo. Another symbol of the strong co-operation between Kosovo and UK. The team are a credit to Kosovo and the KSF.
British Defence Attaché to Kosovo, Lieutenant Colonel Richard Parry said:
This is a fantastic result and many congratulations to the team and the KSF. To win a gold medal on the first time of competing in this very demanding exercise is extremely impressive. They should be proud of their achievement.
Advisor to Commander KSF, Lieutenant Colonel Andy Layton said:
This is yet another impressive achievement for the KSF and clear demonstration of their commitment and high standards. It reinforces the collaboration between the KSF and the UK Ministry of Defence.
Notes for editors
Exercise CAMBRIAN PATROL is the premier military skills event of the British Army which is held in Wales and hosted by 160th (Wales) Infantry Brigade based in Brecon. The aim of Cambrian Patrol is to provide a challenging patrolling exercise in order to test the endurance and military skills of teams and enhance operational capability. Teams have to patrol across 61 kilometers of demanding Welsh terrain in 48 hours completing a series of military skills tasks en route.
Published 25 October 2016