World news story
Kosovo Security Force gain valuable knowledge of UK Military Band Training
This was published under the 2010 to 2015 Conservative and Liberal Democrat coalition government
Two members of the Kosovo Security Force band visited the Royal Marines Band Service in Portsmouth as part of an ongoing UK training and cooperation programme.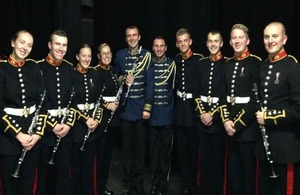 In a continuing programme of development which first saw UK training delivered to the KSF Band in 2012, Capt Shkumbim Bajraktari and Sergeant Patris Berisha of the KSF went for a two-week visit to the Royal Marines School of Music in Portsmouth. The visit was aimed at showing how the UK training model operated and what facilities were required within the Royal Marines Band School to make it successful. They were also given an insight into how the coordination and management of band personnel is undertaken in the UK. As an additional part of the visit KSF band members also performed jointly with the Royal Marines Band in concerts in both Guildford and in the Winston Churchill Theatre in North London.
Speaking about their experiences Capt Shkumbim Bajraktari said: 'This latest visit has been fantastic - We are now managing to break down the final barriers to enable us to become a professional KSF Band'. Sgt Patris Berisha added: 'We are very pleased that this cooperation is going on with the Royal Marine Band, which is the world's finest military Band - We are very interested to continue this relationship in the long term'. The UK training programme has now helped the KSF band convert from a static group of musicians into a fully functioning and highly professional marching band able to represent Kosovo both at home and overseas. This training is part of a wider engagement by the UK Military to support the KSF develop capabilities and capacities in line with their current mission towards NATO standards and doctrine.
Further mentoring and training with the band is planned for 2014.
Follow @UKinKosovo on Twitter
Document information
Published: 15 November 2013