World news story
Kosovo and the UK sign Double Taxation Agreement
Double Taxation Agreement aims to encourage bilateral trade and investment.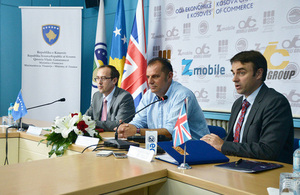 On 4 June 2015, the UK and Kosovo signed a Double Taxation Agreement (DTA) with respect to taxes on income and on capital. The signing of the Agreement was done by HM Ambassador Ruairí O'Connell on behalf of the UK, and by Minister of Finance, Avdullah Hoti on behalf of the Republic of Kosovo.
The signing ceremony took place at the Kosovo Chamber of Commerce and was attended by representatives from Kosovo businesses which will potentially benefit from the Agreement. The UK has Double Taxation Agreements with over 120 countries. The agreement with Kosovo represents an important step in developing the commercial relationship between the UK and Kosovo. The DTA will facilitate trade and investment and help the fight against tax avoidance and evasion.
At the signing ceremony, Ambassador O'Connell said:
The goal of the UK is to have a developed and prosperous Kosovo that has not only good political relations, but also commercial ones, with the UK and other countries.
Minister Hoti said:
This Agreement is further proof of the evolved relationship between our two countries. We believe the Agreement will help in boosting our economic cooperation and especially in increasing British investments to Kosovo.
For more information on our activities, please visit the British Embassy Pristina website or follow us on Twitter @UKinKosovo.
Published 4 June 2015