World news story
Korea Oxbridge Forum
On 28 April HMA Scott Wightman gave a lecture at the inaugural Korea Oxbridge Forum on the importance of business-friendly regulation.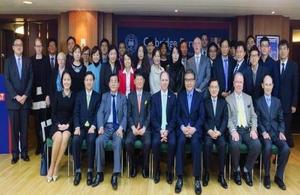 On 28 April HMA Scott Wightman gave a lecture at the inaugural Korea Oxbridge Forum on the importance of business-friendly regulation. The Oxbridge Forum was set up by the Oxford and Cambridge alumni associations in Korea to discuss topics of mutual interest to the UK and Korea. Better regulation is important for the both countries since it is vital for attracting investment and creating jobs, as well as for protecting employees, consumers, and the environment.
Welcome, ladies and gentlemen, to the British Embassy, to those of you who have been here before, and newcomers alike. It's been almost a year since we were last together at the Oxford and Cambridge joint alumni reception last summer. I hope we will have the opportunity to see you return time and again.
Before I start I would like to express my condolences about the Sewol ferry disaster, and to reiterate on behalf of this Embassy that our thoughts are with the families of those who died, or are missing, at this difficult time. As you may know HM The Queen and the Prime Minister both wrote to President Park and we deployed two RN recovery/salvage experts from the UK last week. They are providing technical advice to the Ministry of Oceans and Fisheries, the Korean Coastguard and the Korean Navy to help them recover those missing as quickly as possible.
President Kim Dong-gun and President Park Jin, I would like to thank you and your fellow alumni for inviting me to speak at this first Oxbridge Alumni Forum, and for making this event happen.
This is truly an excellent initiative. An excellent platform to share UK and Korean ideas and experience on topics that matter to our two countries. And an excellent opportunity to deepen our relationship, both professional and social. Oxford and Cambridge have produced many leading personalities in various sectors of Korean society. I hope that this Oxbridge Forum will serve to reconnect you and help us in the Embassy in areas of practical importance to the bilateral relationship.
I hope too that this forum will be an example for other UK alumni groups in Korea. So please do encourage colleagues in other UK alumni groups to set up similar knowledge sharing platforms.
I am sure that all of you must have gained knowledge and unique insights from your time in the UK. This in itself is extremely valuable in building shared understanding in areas where our two countries share interests and objectives, increasing the scope for us to turn joint opportunities into joint achievements, and for us to collaborate on common challenges.
I believe that the topics you will be discussing through this Forum will contribute to enhancing not just knowledge, but also the competitiveness and innovation of both our economies. And so it is very appropriate that you have invited me today to talk on the subject of better regulation.
President Park Geun-hye has made clear that if the Korean economy is to continue to grow, barriers to investment need to be removed; the service sector needs to develop; and the full creative potential of Korean business, Korean research and Korean young people needs to be unlocked. Central to this is the reform or removal of burdensome and unnecessary regulation. This issue is vitally important to the UK both at home and in respect of our work with partners like Korea.
It was an honour, therefore, for me to share the UK's experience at President Park's round table on regulatory reform last month. This was a remarkable event. I'm not sure that any other leader of a G20 country would have devoted seven hours to lead an in-depth examination of any subject. The direct involvement of Korean businesses and the encouragement they had clearly received from the Blue House to ask challenging questions of Ministers and regulators underlined I think the President's determination to make real progress on this agenda.
I can tell you that a stronger focus on improving the regulatory environment in Korea will be welcome news for foreign businesses. In my discussions with British and European businesses operating here, they regularly cite difficult regulations as one of the two key barriers to doing business in Korea and to increasing investment. The other is rigid labour market regulation.
In the UK, successive Governments, whether Labour, Conservative or Coalition, have striven continuously to create the best environment for businesses to flourish and, through that, for our economy to grow. Regulatory reform is led by a government body called the Better Regulation Executive. This name is important. Note it is not the Deregulation Executive. It places emphasis on Better Regulation, not deregulation, and by that we mean improving the regulatory environment, not just cutting regulation altogether. It recognises that some regulation is essential to protect employees, consumers, the environment, and often, companies themselves. If we ever needed a reason for why some regulation is absolutely essential, then the Sewol disaster provides it.
However, far too often, excessive or unnecessary regulation becomes a barrier to investment: if companies feel regulatory costs are too high, the operational effects are too complex, or changes to regulation are too sudden, they won't invest. And if companies don't invest, then they don't create jobs. But the situation is even worse than that. We all know that in today's world, capital is highly mobile. If a Korean chaebol or a foreign investor is faced with a choice between manufacturing in a market with a supportive regulatory environment with regulators ready to work constructively with businesses, or in Korea with constantly changing regulations, enforced unpredictably by regulators responding to media pressure, then they will be tempted to cut jobs here and move production elsewhere. That is the hard truth of business in the 21st century.
Knowing that, better regulation involves taking a hard look at all regulations, and removing or amending those that are unnecessarily burdensome. It's also about reducing the costs of compliance and enforcement of remaining regulations, and thinking carefully about whether alternatives to regulation can been used.
The UK Government sees its policy on better regulation as fundamental to our economic growth, in particular to helping small and medium enterprises.
In Korea, almost 87% of people work for SMEs. So it's no surprise that supporting SMEs is central to President Park's plans. Figures in the UK are similar, with around 60% of private sector employees working for SMEs. Our legal systems are not directly comparable but UK experience may be relevant to Korea.
Our policies on regulation are aimed at removing or simplifying regulations that unnecessarily impede growth. So the Government is reducing the overall volume of new regulation by introducing it only as a last resort. It is improving the quality of existing and new regulations. And it is introducing less onerous and less bureaucratic enforcement regimes where inspections are targeted and risk-based.
To ensure regulations in the UK are fair and effective, we are controlling the number of new regulations. In each case, before introducing a new regulation, officials have to assess the impact of each new regulation, reviewing its effectiveness and improving enforcement. We've introduced a three year moratorium on new regulation for micro businesses (those with fewer than 10 employees) and are specifically reducing regulation for all small businesses. We're also looking at alternatives to regulation.
Like President Park, the UK Government wants to limit the number of new regulations. We started with the 'One-in, One-out' approach in autumn 2010 and moved to 'One-in, Two-out' in January last year. This approach forces officials to hesitate before regulating and to consider non-regulatory methods of achieving policy goals.
The rule requires each government department to assess the direct economic cost to business of complying with any proposed new regulation. That department must then remove regulatory measures to relieve business of twice the net cost of the new regulation. One In Two Out is already saving UK businesses 2.1tn KRW (£1.2bn) annually.
This is not the first attempt by a British government to tackle bad regulation, but it is proving to be the most successful to date. So what have we learnt from One In Two Out? I think there are three key points:
First, the system needs to be consistently applied. Secondly, it must be credible for business. And thirdly, it should be supported by a wider effort to improve the regulatory environment. Let's take these three lessons in turn.
Lesson one, a system like One-in Two-out needs to be consistent. The benefits can only be fully realised if it is applied consistently, across all regulation that affects business, with as few exceptions as possible. Otherwise savings to business are eroded. Consistent and continued political support across government is crucial. In the UK, the Prime Minister, Cabinet Office, Business Ministers, and a Cabinet sub-committee (the Reducing Regulation Committee) take a direct interest in the results of One-in Two-out.
Secondly, the system must be credible for business. Business leaders must be confident that regulatory changes are benefitting them. In the UK, before any regulation is introduced, there must be an Impact Assessment conducted by the relevant government department. An independent body, the Regulatory Policy Committee (RPC) then scrutinises the Impact Assessment, including the estimated savings under One-in Two-out. The Committee gives an opinion on each Impact Assessment, and publicly reports these. The Government only decides to bring in the new regulation once the Committee has approved the Impact Assessment. So there is a transparent, objective evidence available to give credibility to the initiative.
Thirdly, we have found that a system like One In Two Out works best as part of a comprehensive approach to better regulation. There are a number of initiatives and policies that complement One-in Two-out. Perhaps the most successful is the Red Tape Challenge. As many of you will be aware, in the UK regulation is called red-tape, after the red ribbon that used to be tied round important government files. Well the Red Tape Challenge enables businesses and the public to challenge ministries about existing regulation.
As a result of comments on the Red Tape Challenge web-portal, the UK Department of Health reviewed health and social care regulations and decided to get rid of 128 out of 555 regulations reported under the "challenge". Annual savings to business from the Red Tape Challenge so far are around £300m (530bn KRW), representing about 25% of One-in Two-out savings.
The Better Regulation Executive also has a team that focuses on enforcement, in fact it's called the Focus on Enforcement Team. This team works with regulators, enforcers and businesses to reduce disproportionate enforcement costs associated with relatively minor regulations. These cost reductions benefit business but they also benefit the taxpayer.
In the UK we also ensure that businesses are given plenty of notice of proposed changes. Our transparent system informs businesses six months in advance before new regulations are introduced. This means that businesses have time to plan for changes that will impact on their operations or costs.
At the President's round table I heard proposals aimed at helping businesses to better understand the regulations affecting them. The idea of a web-portal setting out the relevant regulations, for someone wanting to open a hair salon for example, struck me as a really positive idea.
I also heard about the use of 'sunset' clauses to get rid of regulations that are no longer relevant. In the UK sunset clauses are applied to many new regulations: if they are not actively renewed by government then they cease to have effect after seven years.
Many people may be concerned that some important regulations will be eroded as a result of the Government's deregulation drive. As I have already said, this can be avoided by putting the emphasis on better regulation rather than deregulation. For example, the UK's Department for Environment, Food and Rural Affairs is currently in the process of rationalising its 80,000 pages of environmental guidance. As a result it will be easier and cheaper for businesses to meet their environmental obligations. This work is projected to save businesses around £100m per year. And for many small businesses that will make the difference between making a profit and hiring a new member of staff, and closing down or making staff redundant.
The UK Government's commitment to better regulation reflects its wider commitment to supporting business, jobs and growth. The UK was ranked seventh globally in the World Bank's Ease of Doing Business report in 2013. Our corporation tax is the lowest in the G7; we are embarking on our largest programme of infrastructure investment ever; our universities are world class.
These are just some of the many reasons why more overseas companies have their European headquarters in the UK than in France and Germany put together. Better regulation is also a key driver behind the growth in our creative industries. Our creative industries employ 1.5 million people and generate £70,000 for the UK economy every minute. In order to foster creativity and harness its economic value, we cannot bind people and companies with overly complex or stringent regulation.
Korea and the UK understand that one of the main sources of future growth is going to come from removing barriers to trade and investment. So I strongly welcome President Park's commitment and the Korean Government's determination to act in this area.
There is always more that Governments can do to help their businesses, especially SMEs, flourish and grow. Better regulation is a great starting point.
Thank you very much. I would be pleased to open this up to questions, comments and discussion. And I would be particularly interested in your views about the challenges and opportunities this agenda presents for Korea.
Published 29 April 2014