Press release
Kingsley Manning confirmed as the new Chair of the Health and Social Care Information Centre
Kingsley Manning has been confirmed as the new Chair of the Health and Social Care Information Centre.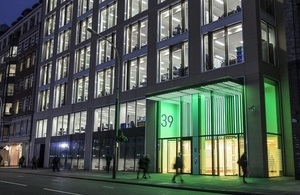 Kingsley Manning has been confirmed as the new Chair of the Health and Social Care Information Centre, Jeremy Hunt, Secretary of State for Health announced today.
The Health and Social Care Information Centre has a pivotal new role as the focal point for data and for core IT infrastructure and expertise across the health and care system and will play a fundamental role in driving better care, better services and better outcomes as part of the Government's reforms under the Health and Social Care Act 2012.
Jeremy Hunt said:
"Kingsley brings a great wealth of experience and expertise and his leadership will be essential at such a crucial time for the new Health and Social Care Information Centre.
"I am sure he will lead the Health and Social Care Information Centre to become the leading centre of expertise and innovation in information management, right at the forefront of driving technological change in the NHS.
"I would also like to thank Candy Morris for her valuable contribution as interim Chair over recent months, and particularly her role in securing the services of top quality non-executive directors."
Kingsley Manning said:
"I am delighted to be asked to Chair the HSCIC and I am very pleased to accept this leadership challenge.
Information and technology are changing almost every aspect of our lives and health and care should be no different. The HSCIC will play a pivotal role in transforming services for patients and citizens through the use of data and information. My objective is to build on the skills of the HSCIC to establish it as both a national and international centre of expertise for the use of data in health and care.
I look forward to taking up my post and working with the board, management team and staff to create a successful and dynamic organisation."
Notes to editors
For media enquiries please ring the Department of Health social care desk on 0207 210 5821.

This appointment is made in accordance with the Code of Practice for Ministerial Appointments to Public Bodies, issued by the Commissioner for Public Appointments.

All appointments are made on merit and political activity played no part in the selection process. However, in accordance with the original Nolan recommendations, there

is a requirement for appointees' political activity (if any declared) to be made public. Kingsley Manning has declared no current political activity.

Kingsley Manning was Founder and Managing Director of Newchurch Limited, a leading firm of health and information consultants, from 1983 until 2009.

Subsequent roles have included, Executive Chairman of Tribal Group's health business and Senior Adviser at McKinsey & Company.

His appointment starts on 3rd June 2013 and is for four years. He will receive £63,000 per annum for a time commitment of 2 to 3 days per week.

For further information on the Health and Social Care Information Centre visit http://www.hscic.gov.uk/.
Published 20 May 2013