Press release
Kicking age discrimination into touch
Record numbers of older people are bringing their skills, talents and experience into the UK workplace.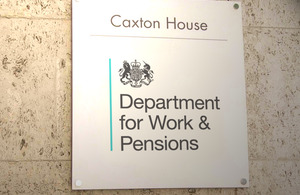 Reaping the benefits of a fuller working life is 71-year-old Eddy Diget from Milton Keynes, who is believed to be the oldest fitness trainer in the UK.
The former Royal Navy worker, who has practised Chinese martial arts for 55 years, is currently training an array of gifted athletes including a British heavyweight cage fighter, a South African rugby player and competitive bodybuilders at DW Fitness club where he works full-time.
Kung-Fu master, Eddy, said:
I haven't got any plans to slow down or retire soon. I'm extremely passionate about what I do and I'd probably do it for free! I enjoy being busy and keeping active physically and mentally is good for you! Every day I'm passing on my years of experience to the younger fitness trainers and of course my clients – it is very rewarding.

Companies that are reluctant to hire older people really are missing a trick. More mature people tend to be reliable, confident, organised, great listeners and, most importantly, have the experience of life. The latter can be priceless. With a quarter of the workforce aged over 50, UK older workers are leading the way in the workplace and the government is committed to promoting the benefits of people staying in work.
Pensions Minister, Baroness Altmann, said:
Getting older shouldn't mean you feel compelled to stop work. There are opportunities out there and employers are increasingly valuing the skills and experience of over 50s. Whether it is continuing a lifelong career for longer, training for an entirely new role or even moving to self-employment, don't write yourself off too soon.

We know that people enjoy the social side of being in work and can enjoy fuller working lives. It is becoming normal for people to have more control over their career as we have outlawed forced retirement. A key part of my role as Pensions Minister is to challenge stereotypes and ageism in the workplace. Eddy is a brilliant example of the value older people can offer – it would certainly be a brave person to tell Eddy he should stop working and retire!
Ross Simpson, Head of Leisure at DW Sports Fitness, said:
In an industry that is traditionally dominated by younger people, the company has benefited from maintaining an open-minded and flexible approach to recruitment.

The likes of Eddy bring so much valuable experience and know-how. By its very nature, the fitness industry is cyclical, with new trends and routines emerging all the time.

Our older trainers are at a distinct advantage, as they've seen these fads come and go. They have a great understanding of what works and what doesn't, and this nous and experience rubs off on our younger employees. Additionally, we actively target older members and have a range of senior memberships, so it's important to have more experienced trainers who can connect with this demographic.

It's also vital that youngsters who are just entering the field have mentors to look up to, especially when they're as committed, knowledgeable and passionate as Eddy.
More information
The UK has an ageing population, which offers both challenges and opportunities for individuals, businesses and the economy. By 2022 there will be 3.2 million more people aged between 50 and State Pension age, yet 200,000 fewer people aged 16 to 49.
The Age Action Alliance is an independent partnership of organisations, including the Department for Work and Pensions, that works together to take a collaborative approach to the challenges of an ageing society.
The Age Action Alliance Employer Toolkit offers guidance on retaining, retraining and recruiting older workers.
Contact Press Office
Press Office
Caxton House
Tothill Street
London
SW1H 9NA
London Press Office (national media and London area enquiries only – not questions about personal claims) 020 3267 5144
Out-of-hours (journalists only) 07623 928 975
England and Wales (local media enquiries) 029 20 586 then 097 or 098 or 099
Scotland (local media enquiries) 0131 310 1122
Follow DWP on:
Published 18 April 2016