Khmer Rouge Trial: Kaing Guek Eav found guilty
The Extraordinary Chambers in the Courts of Cambodia have today found Kaing Guek Eav guilty of crimes against humanity, torture and murder, and imposed a consolidated sentence of 35 years in prison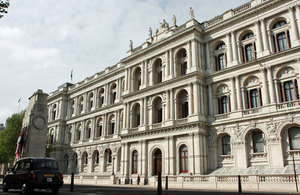 After hearing of the decision, Foreign Office minister Jeremy Browne said:
"I welcome the verdict delivered today by the Extraordinary Chambers in the Courts of Cambodia in the trial of Kaing Guek Eav (aka "Duch") for the torture and execution of thousands of men, women and children under his responsibility at the notorious S21 Khmer Rouge prison.
The sentence can be only small comfort for the relatives of those killed. But the Court's authoritative view of what occurred will play an important role in helping Cambodians come to terms with the past as they move forward with national reconciliation. The interest of the Cambodian people in the trial has been remarkable. I am proud that the UK has been able to support their participation through our funding of documentary and outreach efforts, and through our core funding to the Court itself.
I want to congratulate the Cambodian Government, the UN and all the staff of the Court for the professional and independent manner in which the trial was conducted. Combating impunity for the most serious crimes of international concern is a key priority around the world. The verdict in Phnom Penh sends a strong message that the international community will not allow such serious crimes to be committed with impunity, however long it takes to bring the perpetrators to justice.
The British government will continue to be a strong supporter of the work of the ECCC as it pursues its mandate to prosecute other Khmer Rouge leaders."
Background
The Extraordinary Chambers in the Courts of Cambodia (ECCC, more widely referred to as the Khmer Rouge Tribunal) was established in 2003 to bring to justice the most senior members of the Khmer Rouge regime. Although it forms part of the Cambodian court system, the ECCC is a "hybrid" international criminal tribunal combining elements of domestic and international law, regulated by an agreement drawn up between the UN and the Government of Cambodia in June 2003. The ECCC is made up of Cambodian and international judges and personnel, and the national and international components of the tribunal are separately funded.

Kaing Guek Eav is the first person to be tried by the ECCC. It is estimated that over 12,000 men, women and children were tortured and executed at S21 aka Tuol Sleng prison during his four years in charge. The charges against him are crimes against humanity, murder and torture.

A second trial, of the four remaining leaders of the Khmer Rouge regime, is expected to begin in 2011.
Search the news archive
Published 26 July 2010