Key Stage 2 science sample test results published
The provisional results of the 2010 Key Stage 2 attainment test in science from sample schools are available.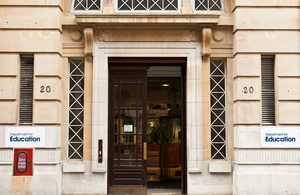 Provisional national results showing Key Stage 2 attainment in science sample tests have been published.
The sample test was administered by five per cent of schools, and taken by 27,210 pupils.
The proportion of 11-year-olds reaching the expected standard or above (Level 4 or above) was 81 per cent. The percentage achieving Level 5 was 28 per cent.
The figures can be found on the Department's research and statistics website.
A Department for Education spokesman said:
We are committed to raising standards in science at all levels, including Key Stage 2 by ensuring children are taught the fundamental scientific knowledge they need to progress - one of the main reasons we are not proceeding with the previous Government's planned primary curriculum is that it risked watering down traditional subjects.
We also recognise that good quality science teaching is crucial if we are to get more children to engage and excel in their science education and new policies - such as with the expansion of Teach First in primary schools - will ensure more highly educated science graduates come into teaching.
Further information:
In total, 27,210 pupils at 747 schools took part in the science sampling test. The tests were administered on 14 May 2010.
Provisional Key Stage 2 test results for English and mathematics were published on August 3, alongside teacher assessment scores for the same subjects and science for Key Stage 2 and Key Stage 3. These results are also available on the Department's research and statistics website.
DfE media enquiries
Central newsdesk - for journalists 020 7783 8300
Published 10 August 2010