Key stage 2 pupil achievement figures
Statistics on 2010 national curriculum assessments at key stage 2 in England, and a statement from Michael Gove.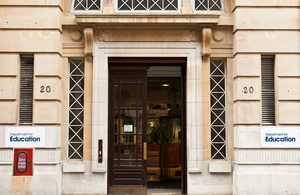 The Department for Education has today published data that shows the percentage of pupils achieving below level 3 in key stage 2 tests by local authority, government office region (GOR) and gender.
You can find the data in the publications section.
Speaking on BBC Radio 4's 'Today programme' about the numbers of children failing to achieve the expected levels of literacy, Michael Gove said:
We believe that we need to make a series of changes to ensure that children are learning to read so they can then go on to read to learn.

We want to ensure that there are additional resources for the very poorest children as well as making sure that those people who are going to be primary school teachers are trained to use the single most effective method that we know works in tackling reading failure - systematic synthetic phonics.

We're also going to ensure that Ofsted inspect properly to make sure that everyone knows the reading schemes that are used in schools. We're going to ask schools to publish details of the reading schemes that they use so we can identify the best, and also identify those that are backmarkers, and we also want to ensure that there's a basic check on children's ability to read at the age of six.

This will be an MOT to ensure that children are reading properly. That they are decoding the English language, understanding the individual letters, how they go together and how a word is made up. And we also want to identify those children who are not decoding fluently to ensure that there is additional support for them.

We know that there are some schools where near to 100% of children reach the accepted or expected level by the age of 11, and some of those schools are in areas with uniquely challenging intakes - children who do have special needs or who come from poor backgrounds. And the question that we've been asking is: 'why are there some parts of the country and some schools where illiteracy has been eliminated and why not in others?'

We want to ensure that those areas - overwhelmingly the poorest areas - receive more money, but one other thing that we are doing is to say if you are a primary school where you get fewer than 60% of children reading at the expected level, and where they're not making appropriate progress, they will also be subject to specific intervention.

We want to ensure that those schools where children are not being taught to read are tackled. Because ultimately, if you do not get a child reading by the time that they leave primary school, when they arrive at secondary school the curriculum is just a closed book to them, literally.

I don't want to be in the business of sacking anyone, but I do want to be in the business of saying to all schools, to local authorities, I'm sorry, it is unacceptable if children leave school after seven years unable to read, when you have had ample resources and the full support of the Department for Education in tackling illiteracy.
DfE enquiries
Central newsdesk - for journalists 020 7783 8300
General enquiries - for members of the public 0370 000 2288
Published 17 December 2010