Kevin McCloud to support the self-build surge
Self-build industry champion and new £30 million fund will boost the self build revolution Kevin McCloud has been appointed by the self-build…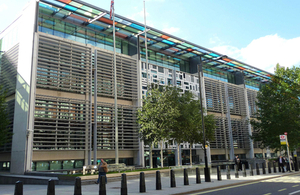 Self-build industry champion and new £30 million fund will boost the self build revolution
Kevin McCloud has been appointed by the self-build industry to support the national surge of interest in people looking to design and build their own home.
Housing Minister Grant Shapps said he was delighted that the National Self Build Association had appointed Mr McCloud, presenter of Channel 4's Grand Designs and an architecture specialist, and he was the ideal choice to help aspiring self-builders achieve their dreams.
Mr Shapps also announced a new £30 million fund for self builders, which will provide short-term finance to help unlock projects where groups of self-build homes are built at the same time.
Self-build industry is 'riding the crest of a wave'
With the number of mortgages available to self-builders set to rise by 141 per cent, and over 100,000 people looking for self-build plots across the country, Mr Shapps said the self-build industry was "riding the crest of a wave".
Yet despite this interest, Britain still lags behind the rest of the world, with just one in ten of all homes each year built by self-builders - so the Government has pledged to double the size of the industry.
£30 million to go Dutch
To mark the start of his new role, Mr McCloud today accompanied the Housing Minister as he leads a UK trade delegation to the Netherlands, to see what lessons can be learnt from the highly successful Dutch self-build industry.
They visited Almere near Amsterdam, the largest low-cost self-build experiment in Europe, which has grown rapidly in recent years. The Minister travelled with a delegation from the UK housing industry, and hosted an event with Dutch Ministers and business leaders at the British Embassy to boost trade and links between Dutch and British businesses.
Mr Shapps also announced that he will shortly be launching a new £30 million fund to provide short-term finance for projects similar to those at Almere, where groups of self-build homes are built at the same time.
These types of projects have been held back in the UK because of reluctance by lenders to provide finance. Self-build groups will now be able to bid for a slice of the cash to part fund land acquisition and early development costs with money being repaid on completion of the project.
Encouraging lenders to lend
Mr Shapps is also writing to key players in the mortgage market, highlighting the strong business case for lending to self-builders and helping to turn their housebuilding dreams into reality.
Citing recent surveys by the Building Societies Association Grant Shapps said that 53 per cent of those asked would be interested in building their own home - while almost two thirds of those said they would like to begin building within the next two years.
In his letters to lenders, Mr Shapps also highlighted a new 'toolkit' prepared by the Building Societies Association, which will provide information and advice to lenders looking to expand into this growing self-build market.
Housing Minister Grant Shapps said:
The self-build industry is riding the crest of a wave, with more people than ever wanting control over the design and build of their home. But despite this self-build surge, we continue to lag behind the rest of the world. I am determined to change this so anyone who wants to embark on a self-build project has the opportunity to do so.

That's why I am delighted Kevin McCloud has agreed to represent the industry - championing the cause of existing and aspiring self-builders across the country, and raising the issues and concerns that matter most to them.

Together we will travel with a UK trade delegation to the Netherlands to learn from the leaders in low-cost self-build, and to boost trade links between British and Dutch businesses. Self-build is good news for the economy - so I'm writing to lenders and encouraging them to use their own industry's toolkit to see how they can lend to those who want to build their own homes and expand into this growing market.
Kevin McCloud said:
In the past we have built some of the poorest performing, most expensive and smallest homes in Europe. That's not something to celebrate.

But there is another way. What if we became a nation of self builders like the Dutch? What if each household in the UK had the option to build their own place? What if large-scale developers provided finished-slab, fully-serviced sites for homebuilders?

We'd see more customised homes that reflect where they are, to higher space standards and to a better quality. We'd see people sharing skills and saving money. We'd see neighbours working together on community self build schemes and local construction economies thriving. And we'd certainly see more energy efficient buildings and a wider embracing of green technologies.

Self build is seen as a long, difficult and self- sacrificing process. But with the right planning, help and support it can be enjoyable and - on collective schemes - empowering.
Chairman of the National Self Build Association Ted Stevens said:
Kevin is a fantastic ambassador for the self build sector, and we're delighted he has agreed to become our champion. He has a real enthusiasm to see new types of self build happen in the UK - and I know he shares our interest in the innovative developments that are taking place in Continental Europe - particularly in the Netherlands and Germany. There are many lessons to be learnt from here that could have a huge impact if we applied some of them in the UK.

We're also delighted that he's agreed to record a short welcome video for the new self build portal that the industry has just launched. This should be up and running in the next few days. The portal explains - in a very independent way - all the different ways of undertaking a self build project and helps would-be self builders figure out the best way of tackling a project for the money they have available.
Champion picked by industry
Appointed by the National Self-Build Association on behalf of industry, Kevin McCloud will be a champion for all self-builders, particularly by:
raising public awareness of the benefits of self/custom building a home; and
helping the self-build industry promote the services available to those looking to build for the first time.
Mr McCloud has also backed a new industry-sponsored self build website (www.selfbuildportal.org.uk external link) offering help and advice for aspiring self-builders, meaning that anyone looking to build their own property has a one-stop shop for all the support they may need.
Twitter
Keep up to date with the Department by following us on Twitter (external link).
Media enquiries
Visit our newsroom contacts page for media enquiry contact details.
Published 14 May 2012