Kettering growth incentives benefit community
The New Homes Bonus scheme will boost the spending power of local communities.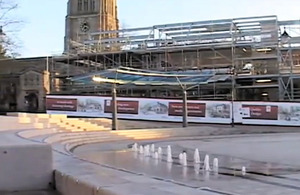 Housing Minister Grant Shapps paid a visit to Kettering to see for himself how the New Homes Bonus Scheme will help a growing community, and how the incentives from the scheme could be used to benefit the town.
Under plans for the New Homes Bonus, which are now open to consultation, the government will match the Council Tax raised from new homes for the first 6 years.  Communities will work together to decide how to spend the extra funding - whether Council Tax discounts for local residents, boosting frontline services like rubbish collection or providing new local facilities.
Kettering has bucked the trend of the recent downturn, experiencing growth and redevelopment at a time when the construction industry faced a tough test. And local people have proved very supportive of the new building work taking place.
Grant Shapps said:
House building has slumped to the lowest level since 1924 in any peace time year. Under the old system it was top down, ministers like me ordering what happened in places like Kettering and elsewhere around the country. It's just not working. What we want is a system that actually works. The New Homes Bonus is designed to give local people something in return when they say yes to developments in their areas.
Getting the community involved has been a key strategy for Kettering Borough Council. While preparing the local development plans for the town, councillors undertook a comprehensive consultation with the community, opening a shop to discuss the challenges and opportunities of new development in the town. As a result of those discussions, it was clear that local people wanted more local restaurants in their town centre, and a Market Place Restaurant project was brought forward.
With this wealth of experience already under their belts, councillors are now excited by the opportunities that the New Homes Bonus could bring to the area.
As Councillor Mark Dearing, portfolio holder for economic development and regeneration, said:
The New Homes Bonus will provide a huge incentive for Kettering Borough Council in helping to bring to life the aspirations of our residents.
Watch a video about the New Homes Bonus
Video transcript (MS Word Document, 26KB)
Published 17 November 2010