World news story
Kazakhstan's Human Rights Report 2012
Steven Freeman, Political Officer, speaks at Kazakhstan's Human Rights Report 2012 Launch in Almaty on 24 October 2013.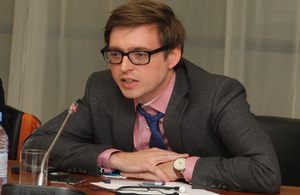 Good morning ladies and gentlemen.
I spoke here last year and I am delighted to be here again at the presentation of the National Human Rights Report 2012 and the Report on the Rights of Migrants in Kazakhstan. Many thanks to all those involved in making today possible – and in particular to Secretary Abishev, Chairman Kuanysh Sultanov, Mr Tlektes Yespolov (Rector of National Agrarian University), to EU Ambassador Aurelia Bouchez, Deputy OSCE Ambassador Jannet Kloetzer and IOM National Officer Svetlana Zhasymbekova.
The British Government is delighted to continue our cooperation with the National Human Rights Commission, which started in 2007. The UK sees Kazakhstan as one of perhaps 20 or so "Emerging Powers" in the world, with whom we seek a deeper relationship on a strategic level. That includes cooperation over the social development of this country and the strengthening of its structures – of which good governance and human rights are crucial parts. We therefore much welcome the adoption of legislation on the National Preventive Mechanism. This is a tangible indication of the Kazakh Government's commitment to improve the treatment of those in closed institutions.
Two years ago my Ambassador spoke of our hopes and our concerns for Kazakhstan's new legislation on Religion. We appreciate Kazakhstan's efforts towards encouraging harmony and religious accord in the Eurasian region and beyond. We also appreciate the challenges faced by Kazakhstan and by the rest of us by 21st century technology, the ease of world-wide migration, and sources of conflict. They all come together to pose difficult questions to policy makers in all countries. Our Government remains convinced that the answers always lie in encouraging and supporting the fullest possible respect for the Freedom of Religion and Belief. I'm delighted that my Government has, this year, launched a project in collaboration with others including the Agency for Religious Affairs, state prosecutors and youth groups in order to help raise awareness of standards in this area. We therefore urge the Government of Kazakhstan to use the opportunity provided by Kazakhstan's Universal Periodic Review at the Human Rights Council in 2014 in order to develop further the work already underway to address existing challenges. Work remains to be done if we are to avoid the possibility of driving people underground and into the hands of extremists.
Another challenge faced, worldwide, is the role of Business in respecting individual rights. The UK recently published its own action plan on Business and Human Rights. The stronger the thread of safeguards running through society that are good for human rights - democratic freedoms, good governance, the rule of law, property rights, civil society – the better are the conditions for long-term, private sector led, market growth which is good for jobs and good for development. EU has called on all other member states to develop plans by end 2013. Encourage Kazakhstan to join this initiative and consider the possibility of a similar plan here. We would be delighted to work with our partners in Kazakhstan (and indeed with all other countries) so that together we can encourage the private sector to play its part.
Thanks again for listening and for working with us and our international partners. We believe our relationship is strong enough to allow an honest exchange of views on areas where we might differ. The UK government supports human rights, democracy and good governance around the world. We continue to see human rights as a key international issue. And we are glad to offer continued support to human rights initiatives in Kazakhstan. Thanks.>
Published 28 October 2013