World news story
Kazakhstan Prosperity Fund: Call for Project Bids for 2016/17
Call for Project Bids for 2016/17 with a focus on corporate governance and accountability in the financial sector.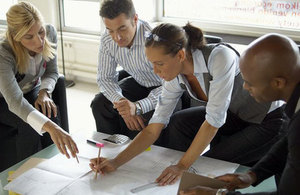 Prosperity Fund
The 2015 Strategic Defence and Security Review announced a £1.3bn Prosperity Fund over the next 5 years to promote the economic reform and development needed for growth in partner countries.
Our priorities will include improving the business climate, competitiveness and operation of markets, energy and financial sector reform, and increasing the ability of partner countries to tackle corruption. As well as contributing to a reduction in poverty in recipient countries, we expect these reforms to create opportunities for international business including UK companies.
The role of the Fund is also set out in the UK aid strategy, Tackling Global Challenges in the National Interest.
The Prosperity Fund will form a small but integral element of the UK's total Official Development Assistance (ODA) commitment of 0.7% of GNI. It will primarily be focused on ODA eligible middle income countries, contributing to poverty reduction and complementing DFID's work in poorer countries. In this way, the Fund will contribute towards meeting the new Sustainable Development Goals. ODA spend under the Fund will be fully consistent with OECD DAC criteria.
Much of the Prosperity Fund will involve multi-year programmes. As part of the first year of the Fund, initial competitive bidding processes will be administered in a number of countries for project initiatives, where organisations are invited to submit bids to embassies and high commissions for individual projects in support of Fund objectives.
The Central Guidance for Implementers sets out the arrangements for the bidding process for these projects, including rules governing ODA expenditure under the Fund.
Kazakhstan's Prosperity Fund Objectives
In Kazakhstan our initial bidding process for 2016/17 invites bids focused on promoting economic development through support of economic reform outlined in the Government of Kazakhstan's 2015 "100 concrete Steps to implement the 5 Institutional Reforms".
In particular we are interested in projects with a focus on corporate governance and accountability in the financial sector. Our ambition is for these projects to contribute to improving the regulatory and administrative environment in which financial markets operate in Kazakhstan, thereby unlocking constraints to inclusive growth.
Application Instructions
To apply please download, complete and send to ukinkz@fco.gov.uk by 4 May 2016:
Evidence of stakeholder engagement and local buy-in
Any additional supporting document you may wish to provide
Due to the need to implement quickly there is no concept stage for this Call for Bids. Therefore interested parties are strongly encouraged to contact the Embassy via ukinkz@fco.gov.uk to discuss proposed bids before they are submitted.
Bids will be accepted for projects with a value of up to £110, 000 and all will be rigorously scrutinised to ensure value for money and impact. It will be important to demonstrate mechanisms to monitor and evaluate outcomes.
It is important that all projects plan for completion by the end of March 2017 and are compliant with the UK's International Development Act and the OECD DAC rules on Official Development Assistance.
Please make sure you include a signature and the printed name and title of the person submitting the form. An electronic signature will be accepted.
Please also make sure that you are familiar with how proposals are assessed in the Central Guidance for Implementers document above.
Do also familiarise yourself with the Standard Grant Contract before applying.
Kazakhstan Bidding Timeline
Wednesday 13 April 2016 call for bids released
Wednesday 4 May 2016 final deadline for bids to be submitted
Monday 6 June decisions announced
Documents
Published 20 April 2016