World news story
Kazakh and Kyrgyz Military English Teachers gather for training in Almaty
On 16 October a 10 day seminar for Military English teachers was started in Almaty.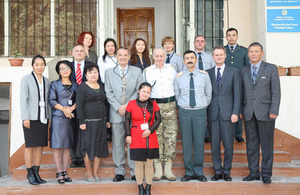 On 16 October at the Partnership for Peace Centre in Almaty there started a 10 day seminar for teachers of military English from Kazakhstan and Kyrgyzstan. The purpose of the British Council delivered training is to improve the skills of the English language teachers through the demonstration of new techniques, the use of new materials and the sharing of best practice. The teachers have come from military establishments in Astana, Aktobe, Schushinsk, Almaty and Bishkek.
The seminar is delivered by specialist military English consultants Nick Fletcher and Luke Duckworth and is an important element of the Peacekeeping English Language Project funded by UK MOD.
In the New Year students from Kazakhstan, Kyrgyzstan, as well Tajikistan, will go to England to participate in the Basic Military English Course which is to be run at the UK's Defence Centre for Languages and Culture now located at the Defence Academy at Shrivenham, Wiltshire.
Published 18 October 2013