Press release
Justine Greening statement on Syrian authorities refusal to allow aid into Daraya
International Development Secretary responds to reports of vital humanitarian aid convoy to Daraya being blocked.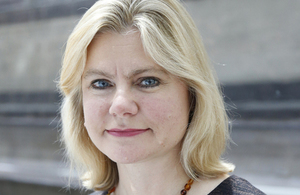 Responding to reports that a vital humanitarian aid convoy to the besieged town of Daraya in Syria was blocked yesterday by the Syrian regime, UK Secretary of State for International Development Justine Greening said:
The shocking refusal by Syrian authorities for the delivery of medical assistance and nutrition items for children from a humanitarian convoy to the besieged town of Daraya yesterday is unacceptable and in violation of International Humanitarian Law.

For nearly four years, Daraya has been besieged, cut off from humanitarian assistance in any form. To prevent delivery of life-saving supplies goes against earlier guarantees and approvals obtained from the Syrian authorities.

Access to medical treatment is not a privilege it is a fundamental right. Immediate and sustained humanitarian access to reach all people in need in Syria must be a priority. It should not be subject to negotiation.
ENDS
Notes to editors
The UK has committed over £2.3 billion in humanitarian aid in response to the conflict in Syria.
For more information about the UK's response to the crisis, please visit: www.gov.uk/government/world/syria
Published 13 May 2016