Joint UK, Afghanistan, Pakistan statement
Joint Statement on the occasion of the Afghanistan-Pakistan-United Kingdom Special Trilateral Meeting.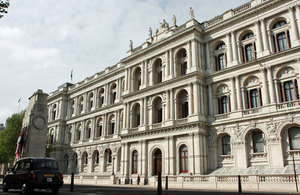 His Excellency Hamid Karzai, President of the Islamic Republic of Afghanistan, hosted a special trilateral meeting of Afghanistan, Pakistan and United Kingdom today, and welcomed to the Presidential Palace His Excellency Raja Pervez Ashraf, Prime Minister of the Islamic Republic of Pakistan, and The Right Honourable David Cameron, Prime Minister of the United Kingdom.
President Karzai and Prime Minister Cameron congratulated Prime Minister Ashraf on being elected as Prime Minister of the Islamic Republic of Pakistan, and looked forward to working closely with him and his Government.
The three leaders discussed the current situation in the region and reaffirmed their common vision to advance regional peace and stability. Recognizing that terrorism poses the gravest threat to regional and international security, the leaders reiterated their strong commitment to working together to eliminate this scourge, and agreed that success will depend on the active support of the region and the international community. They also emphasized the importance of peace in Afghanistan for the peace and security of Pakistan. Prime Minister Cameron highlighted the international community's continued commitment for a peaceful, stable and democratic Afghanistan in a stable and prosperous region.
The three leaders expressed satisfaction at the progress of the Transition process in Afghanistan, and reiterated that an independent, peaceful, self-reliant and democratic Afghanistan was necessary for to the stability and prosperity of the wider region. They also took note of the international community's long-term commitments to Afghan security and economic development made at the recent Chicago and Tokyo conferences. Afghanistan thanked the United Kingdom and Pakistan for their support to these goals. The leaders agreed that regional prosperity requires economic development through trade, investment and greater economic integration. . In this regard, the leaders noted the success of the 14 June 2012 Heart of Asia Ministerial Conference in Kabul, aimed at strengthening confidence and practical cooperation in the region, including through the implementation of the Istanbul Process confidence building measures.
President Karzai reiterated the continued importance and urgency of a political solution to end the violence in Afghanistan, and the Afghan people's determination to realize their aspirations for lasting peace through an inclusive and dignified process, involving the Taliban, Hezb-e-Islami and other armed opposition groups. Prime Ministers Ashraf and Cameron reaffirmed their support for such a process that is led and owned by Afghans, facilitated by Pakistan and other regional countries, and supported by the UK and the wider international community. The two leaders recognized the leadership that President Karzai has brought to the peace process and welcomed the reinvigorated efforts of the Afghan High Peace Council under Chairman Rabbani.
Prime Ministers Ashraf and Cameron thanked President Karzai for hosting this special trilateral meeting of the three countries.
Kabul, Afghanistan
19 July 2012
Search the news archive
Published 19 July 2012