Joint Statement – UK Foreign Secretary and UAE Foreign Minister
We have just completed a two day visit to Helmand and Kabul: a first for the UK and UAE. Our joint visit reinforces our shared commitment to Afghanistan.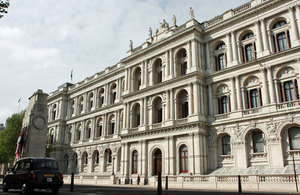 We are both there to protect our national security and support the Afghan people to defeat the threat of terrorism.
In Helmand, we saw the very real security progress being made by the contribution and sacrifice of Afghan forces together with their UK, UAE and international allies. We remain committed to the ISAF campaign and the transition process.
The UK and UAE fully support President Karzai's call for an Afghan-led political process. In our meeting President Karzai set out the progress already made as well as remaining challenges.
Osama bin Laden's death was a devastating blow to Al Qaeda, a terrorist organisation that has inflicted incredible suffering on the Afghan people. Now is the time for the Taliban to make a decisive split from Al Qaeda, renounce violence and engage in a genuinely representative political process. We recognise that a process will take time and, to be sustainable, should involve all Afghans. We call upon all those committed to a better future to take their first steps on this path to peace.
A political process will be Afghan led but continued support and constructive engagement from the Islamic and wider world is essential. Countries in the region, including Pakistan, with which both our countries have a deep and long term friendship and which has suffered immeasurably at the hands of terrorist groups, have a vital role to play. Our joint visit is a symbol of the wide international support for Afghanistan.
Political and military progress can only hold with a strong foundation of governance and the rule of law. The UK and UAE are committed to supporting Afghanistan in these areas for the long term. During The UK and the United Arab Emirates are increasingly collaborating on development projects elsewhere, bringing together our respective strengths and skills to add value and impact. I am delighted to announce our intention to extend this cooperation to Afghanistan. We have been discussing areas of mutual interest, for example in the areas of education and infrastructure. Over the coming months we will identify specific projects to work on together. Alongside this, we emphasised the need for the Afghan Government to take the necessary steps to agree the IMF programme which is fundamental to improving the quality and availability of basic public services.
Published 29 June 2011