Press release
Joint Statement of the UK-Bahrain Joint Working Group
Foreign Office Minister for the Middle East hosts UK-Bahrain talks in London.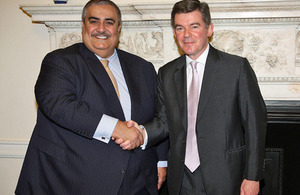 The UK-Bahrain Joint Working Group met for the second time in London on 12 November. The delegations, led by Hugh Robertson, Minister for the Middle East and His Excellency Shaikh Khalid bin Ahmed bin Mohamed Al Khalifa, Foreign Minister of the Kingdom of Bahrain, discussed a range of issues.
Following the meeting, Hugh Robertson and Shaikh Khalid bin Ahmed Al Khalifa released the following statement:
The Joint Working Group is a demonstration of the strong relationship between the UK and Bahrain. Today's meeting was an opportunity to discuss a wide range of areas of co-operation.

We exchanged views on regional and bilateral issues including co-operation and assistance on security and counter-terrorism, as well as key trade and investment opportunities. We also discussed progress with Bahrain's reform programme, including UK support for the implementation of the recommendations of the Bahrain Independent Commission of Inquiry Report and UN Human Rights Council Universal Periodic Review. Officials from both governments will continue to work closely together ahead of the next meeting, which will take place in Manama in six months time.
Further information
Follow Foreign Office Minister Hugh Robertson on twitter HughRobertsonMP
Follow the Foreign Office on twitter @foreignoffice
Follow the Foreign Office on facebook and Google+
Published 12 November 2013