News story
Joint Statement of the Seventh UK-Kuwait Joint Steering Group 25-26 November 2015
The seventh meeting of the biannual UK-Kuwait Joint Steering Group, aimed at deepening the bilateral relationship, took place in Kuwait this week.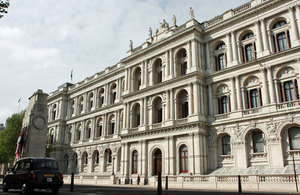 The seventh meeting of the UK-Kuwait Joint Steering group took place in Kuwait on Thursday 26 November, chaired by the UK Minister with responsibility for the Middle East, Tobias Ellwood MP, and the Deputy Foreign Minister of Kuwait, Ambassador Khaled Al Jarallah. It was attended by delegations from both countries, with the aim of pushing forward cooperation across a range of areas, including defence, education, healthcare, justice, migration, security and trade, and investment. Both countries agreed on a number of ways to strengthen cooperate on these issues further deepening UK-Kuwait bilateral relations.
The Security subgroup focussed on enhancing aviation security measures and police cooperation. The Defence subgroup looked at regional threats and cooperation in areas of mutual interest. Migration discussions covered the rollout of the new EVW2 pilot earlier this week, along with enhanced cooperation on documentation. Both sides also agreed on the importance of developing and strengthening the bilateral trade relationship, and further underlining collaboration on healthcare and education. The Justice subgroup also made significant progress towards the signing of an extradition agreement between the two countries.
Minister Ellwood and Minister Al Jarallah concluded the meeting with the formal signing of an action plan setting out key milestones for cooperation over the next six months. Both sides agreed that there would be an eighth Joint Steering Group meeting in London in six months' time.
Further information
Published 26 November 2015