News story
Join the Department of Health at this year's National Children and Adult Services Conference
Find out more about the department of health's work, the new ministerial team and meet those who are working directly on policy by joining the…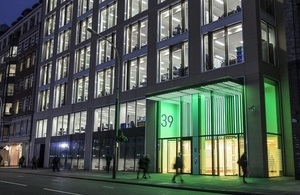 Find out more about the department of health's work, the new ministerial team and meet those who are working directly on policy by joining the department at the National Children and Adult Services Conference (NCAS) 2012
Jeremy Hunt, Secretary of State for Health and Norman Lamb, Care Services Minister will both be speaking at NCAS 2012 this week.
The Department is also running a series of mini masterclasses at NCAS covering a range of current issues and priority policy areas, including:
An overview of the draft Care and Support Bill
Improving the quality of dementia care
Shared leadership - what's your contribution?
These are running in addition to the programme of plenary sessions and workshops and will be short, informal, drop-in sessions run from the department's stand at number 42.
In this video Shaun Gallagher, Acting Director General of Social Care, Local Government & Care Partnerships talks about the NCAS 2012 conference and makes the following points:
The NCAS conference comes at a really important time for social care.
Earlier this summer, the government set out plans to reform social care in the Caring for our Future white paper and now we are busy working across the sector to make these changes happen.
We also published the draft Care and Support bill which is the biggest change in social care legislation for 60 years.
From April next year, local health and well being boards and Healthwatch are being established as part of new local leadership for health.
We are taking forward a range of work to progress better care for people with dementia.
We have a new ministerial team at the Department of Health.
The NCAS conference brings together health and care leaders and policy makers from across local and central government, voluntary and private sectors.
This year, the NCAS conference is taking place between Wednesday 24 and Friday 26 October at the Devonshire Park Centre in Eastbourne. A full programme and details of confirmed speakers are available on the NCAS conference webpage.
To find out more about the Department's policies, you can follow us on Twitter where we'll be tweeting live over the three days and signposting to further information on our Facebook page:
Published 24 October 2012