Press release
Jobseeking rise: benefit cap is taking effect
Nearly half (45%) of those affected by the benefit cap say that they plan to look for work as a result.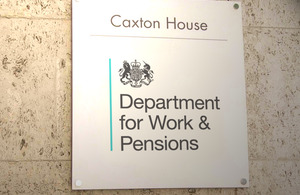 Nearly half (45%) of those affected by the benefit cap say that they plan to look for work as a result, according to a new survey released today (14 April 2014).
Research by Ipsos MORI, carried out 1 year after the new rules first came into force, also shows that 28% sent off more job applications to find paid work and 27% said they are using agencies such as Jobcentre Plus, careers centres and recruitment consultants more regularly to help them find work.
The findings are further evidence that the benefit cap is encouraging people to find work. Latest official figures show that nearly 4,300 households that were previously subject to the benefit cap found jobs since the limit was introduced in April 2013.
Secretary of State for Work and Pensions Iain Duncan Smith said:
Attitudes and behaviours are changing fast with increasing numbers of people looking for work and taking greater responsibility for their own lives. I believe the benefit cap has played a huge part in this.

This policy has proved to be particularly popular with the public for the very good reason that it has restored fairness to the system.

It was simply not right that under the previous regime some people were receiving more in benefits than the average family earned in wages.
More than 38,600 households have been affected by the cap, according to the most recent figures. Of those currently capped, more than 300 households had more than £300 capped from their income.
The policy is expected to save £185 million in each of the next 4 years.
Crucially, today's report shows that people who have been subject to the cap are more likely to view getting a job as the long-term solution to the reduction in payments.
Capping benefit is part of the government's long-term economic plan to return fairness to the welfare state and help people off benefits and into work.
The benefit cap, which was introduced in 4 London Boroughs before successfully rolling out across the country, limits people's benefits to a maximum of £26,000 – the average earnings in Great Britain after tax.
The research also revealed that while many people were already looking for work before being capped, 40% of respondents said that they had been 'more encouraged' to find work as a result of the benefit cap.
Since the benefit cap was introduced, we have made £110 million available to local authorities through the Discretionary Housing Payment fund, which can be handed out to people who need extra help in making the transition to the new system.
More information
Benefits for couples and lone parents have been capped at £500 a week, or £350 for a single childless person.
The latest figures show more than 38,600 households were capped by January 2014.
Ipsos MORI interviewed a sample of 1,200 affected benefit claimants by telephone between 7 and 26 February 2014.
Read the full survey
Contact Press Office
Media enquiries for this press release – 020 3267 5134
Press Office
Caxton House
Tothill Street
London
SW1H 9NA
London Press Office (national media and London area enquiries only – not questions about personal claims) 020 3267 5144
Out-of-hours (journalists only) 076 59 108 883
England and Wales (local media enquiries) 029 20 586 then 097 or 098 or 099
Scotland (local media enquiries) 0131 310 1122
Follow DWP on:
Published 14 April 2014