Jobs and housing unlocked by road schemes valued at more than £570 million
A1 Leeming to Barton upgrade officially opened and funding for 3 major new road schemes is announced.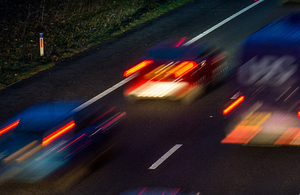 A £400 million upgrade to the A1 will save drivers up to 3,000 hours in journey time a day when it is officially opened by Transport Secretary Chris Grayling today (17 May 2018).
Chris Grayling will also announce a further £173 million of government funding for 3 major new road schemes ranging from Yorkshire to Devon.
Transport Secretary Chris Grayling will visit Darlington to officially open the £400 million enhancement of the A1 Leeming to Barton scheme, the 6th scheme to be completed of the government's £15 billion Road investment strategy and said to be the largest road building project in the north.
Transport Secretary Chris Grayling said:
We are investing record amounts in improving our roads – giving motorists quicker and safer journeys to go to work, see family and friends, or go shopping.

Highways England is making good progress in delivering new road schemes right across the country, providing improved connections and new opportunities for businesses.

But we're not just focusing on our major roads. Today I have announced £173 million for schemes in Leicestershire, Devon and East Riding, which will not only save drivers time stuck in traffic, but help support thousands of new jobs and homes.
Almost 70,000 drivers each day will use the new stretch of dual carriageway in Darlington. This scheme is just one on the journey between Newcastle and London which is being upgraded, from the M1 widening at Leeds; the Catthorpe interchange between the M1, M6 and A14 near Rugby; and smart motorway projects at Sheffield, Nottingham, Northampton, and Milton Keynes.
The £173 million of government funding, also announced today, will go towards:
The cash will see a new bypass for Melton Mowbray given £49.5 million as part of the government's programme of Large Local Major schemes. The 7 kilometre road on the east of town will help support 3,000 new jobs and 2,250 homes by 2026.
It will also mean drivers will have fewer delays between the Humber Bridge and Beverley, with £40.8 million being awarded to East Riding Council to turn sections of the A164 into a dual carriageway and for improvements to Jock's Lodge junction where the road meets the A1079.
And it will allocate £83.1 million to widen the North Devon Link Road, easing traffic and making the road safer for motorists.
Roads media enquiries
Media enquiries 020 7944 3021
Out of hours media enquiries 020 7944 4292
Switchboard 0300 330 3000
Published 17 May 2018