News story
Jo Swinson talks to 5 News Tonight about shared parental leave
Jo Swinson, Minister for Employment Relations, talks to 5 News Tonight about the benefits of shared parental leave.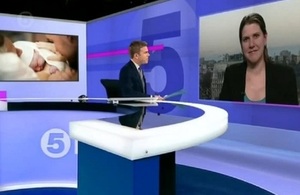 From April 2015, parents will have greater choice in how they share time off work and care in the first year of their child's life. The change will drive an increase in workplace equality as women could choose to go back to work earlier whilst fathers can spend more time with their children in the first year after they're born.
Jo Swinson talks to 5 News Tonight about shared parental leave
Check your eligibility for shared parental leave and how much pay you can get if you take leave.
5 News Tonight video transcript
Matt Barbet: Now the hard-hitting world of rugby might seem an odd place to find a shining example of a new man, but England's union star Ben Foden says his years on the pitch have given him the confidence to be hands-on with raising his children. He and his pop star wife, Una from The Saturdays, are fronting a new government campaign urging mums and dads to take advantage of a new shared parental leave law. I spoke to the Employment Minister, Jo Swinson, a short time ago and started by asking her how successful she thinks it will be given that the government's own forecast suggests only 2 to 8% of men will take advantage of the policy in its first year.
Jo Swinson: Like with many changes, particularly towards greater equality and rights for dads that it does take a little time. So in the first year you wouldn't expect it to be as much as in year 5 of year 10. And it was the same if you think about when paternity leave was introduced that wasn't something that there was a huge take up of initially but now most men take some time off around the time when their baby is born, whether they take it as formal paternity leave or they take it as a period of holiday, although it's certainly not a holiday.
Matt Barbet: You and I are both parents. I'm a dad I've got 2 children and I took time off for both and I was present at both births as well. But the thing is, my wife won't mind me saying, that I'm the main breadwinner so chances are I'm going to be the one going back to work sooner and I imagine that's true for most couples.
Jo Swinson: It is true that in the majority of couples currently the man earns more than the woman but that is something where there are changes afoot. And there are now, depending on which surveys you look at, up to a third of couples actually have the woman who earns more. And so for those couples, those families, the economics might be very different. So why should we have an outdated system that assumes and says that it must be the woman who takes up to a year off and dads should only get two weeks.
Matt Barbet: Now your own circumstances mean that you're married to another MP. I'm not going to speculate on who's the bigger breadwinner, it might be you actually because you have a more senior job. You already have a son. If you were to have another baby how would you divide it up?
Jo Swinson: Well I think it's like for all couples, something that you would have a discussion about at that point. Working out what you each perhaps had coming up, how you felt about it. I feel very strongly from my personal experience that having period of maternity leave was very important. Not just for recovering from the birth which is a pretty intense experience. But also for that early bonding and of course naturally many mums are going to want to continue to do that. But of course there's no reason why dads will not also want to have time with their new baby. And indeed the flexibility that we have under shared parental leave now is going to enable couples to have perhaps some time together at home as a family for longer when the baby is a new-born but to maybe take other chunks of time during that first year. So it may be that the mother is taking some maternity leave in the early weeks and months but then decides to go back to work that dad might then take on more of the responsibility and particularly take some more leave around the time of the transition of mum going back to work to make that run more smoothly.
Matt Barbet: The bigger question it really raises is how secure are women's jobs here?
Jo Swinson: Well clearly there are still issues in the workforce. We know that after having children in later stages of women's careers this is one of the factors that is behind the pay gap that persists. But of course by having more men take time out of their jobs to look after young children and babies then that will help to start change the culture and make things more equal in the workplace. So more equality at home, I think, is also good for equality in the workplace and that is something that will help women's careers as well as helping the family situation and the bond between dads and their children.
Published 13 January 2015