Jim Paice: exporters must not break animal welfare laws
Government has written to exporters to warn them of the consequences of not observing the law on animal welfare standard.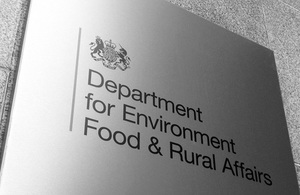 Transport companies exporting live animals from the Port of Ramsgate have been warned they must put a stop to unnecessary delays, Agriculture Minister Jim Paice said today.
In response to recent unacceptable delays at the Port, the Government has written to exporters to warn them of the consequences of not observing the law on animal welfare standards and there will be a new limit on the time taken to load vehicles onto the vessel. This will normally be two hours.
Jim Paice said:
"I want all those involved in the export of live animals to be under no illusion that we take animal welfare very seriously.
"It has been brought to my attention that unacceptable delays have occurred at the Port of Ramsgate. I will not tolerate this. The AHVLA has today written to the operators involved warning them of the consequences of breaking animal welfare laws and assuring them robust action will be taken."
Whilst the live export trade has diminished significantly, from more than two million at the peak of exports in 1992 to around 50,000 a year now, it is not possible for the Government to ban it, as this would be contrary to EU trade rules. However, Jim Paice will press the European Commission to come forward with proposals to tighten up existing rules and encourage, more sustainable and less stressful journeys.
Jim Paice said:
"I want to see livestock slaughtered as close as possible to where they are farmed so I am pushing Europe for improved rules that reduce the stress that these long journeys cause animals."
Mr Paice also welcomed the news that updated guidelines are being produced by Animal Health and Veterinary Laboratories Agency (AHVLA) on the regulatory action they take in relation to welfare in transport rules. These will be published soon.
Notes
The Government would prefer to see the export of meat or germplasm rather than livestock, and that animals are slaughtered as close as practical to their point of production.  But, the export of livestock for slaughter within the EU is a perfectly legal trade.
To ban the trade would be illegal under existing EU legislation. This legal position has been confirmed by two rulings by the European Court of Justice and a number of high court cases in the 1990s.
All commercial transporters of animals have to be authorised and drivers have to pass a competency test which focuses on the care of the animals they will be transporting.
For long journeys, vehicles must be inspected and approved by qualified engineers working for authorised private vehicle inspection bodies.  
For long journeys, transporters must apply for a journey log for each journey that provides the details of the proposed route, and these applications are checked by the AHVLA before they are approved.
The journey logs have to be updated by the transporter as the journey progresses and returned once the journey is completed, and checks by the AHVLA then establish whether the actual journey was in line with the original application. Significant variations will be investigated to see whether they were consistent with the legislation.
There are other detailed rules including those on fitness to travel, space allowances, ventilation and access to water and feed.
The Animal Health Veterinary Laboratories Agency (AHVLA) is responsible for regulatory action taken against transporters of animals and they will also refer any serious welfare infringements to the relevant local authority for any necessary enforcement action (which could lead to prosecution).
AHVLA Inspectors undertake risk-based checks on consignments, either when the animals are loaded at the point of departure or on arrival at the port of Ramsgate. They will investigate any genuine claims of illegality or poor transport practices impacting on the welfare of the animals and can suspend or revoke the transporter's authorisation to transport animals or withdraw their vehicle approval certificate if any infringements are found. They work to regulatory guidelines which are being updated and which will be published shortly.
Rules on welfare during transport, are laid down in Council Regulation (EC) 1/2005, as implemented in England by The Welfare of Animals (Transport) (England) Order 2006. Parallel legislation exists in the Devolved Administrations.
Published 28 October 2011