Jeremy Hunt rides the rapids at the Lee Valley White Water Centre
Olympic venue for canoe and slalom helping to prepare Team GB for London 2012.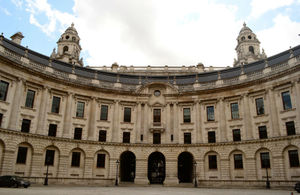 Lee Valley White Water Centre, the first Olympic venue to open its doors to the public proudly welcomed Culture Secretary Jeremy Hunt recently during a tour of the facility.
During the visit Mr Hunt met with Team GB Canoe Slalom Head Coach Jurg Gotz to hear how training was progressing and watch members of the team in action, before experiencing the course first hand.
Watch Jeremy Hunt braving the rapids and interviews with Lee Valley Regional Park Chief Executive Shaun Dawson and Team GB coach Jurg Gotz:
Legacy vision
The White Water Centre officially opened its doors on Easter Weekend 2011 and has since had over 4,500 visitors of all ages try the rafting course out for themselves. It is also the first London 2012 Olympic venue to secure a major event post 2012 by hosting the 2015 World Championships.
Further information
Lee Valley White Water Centre
Published 20 May 2012