Jeremy Browne welcomes UN vote
The Foreign Office Minister has welcomed the UN vote restoring the reference to sexual orientation to the UN resolution on extra-judicial killings.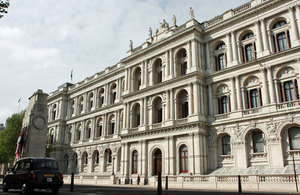 Earlier this week, the UN General Assembly approved an amendment to the UN resolution on extrajudicial, summary and arbitrary executions that restored the reference to sexual orientation. There were 93 votes in favour, 56 against and 27 abstentions. The amended resolution was then adopted with 121 yes votes, one against and 62 abstentions.
Commenting after the passage of the resolution, Foreign Office Minister Jeremy Browne said:
"I am delighted that the amendment requiring States to investigate the killings of anyone based on their national, ethnic, religious or linguistic background, or because of their sexual orientation, passed. It is vital that States provide the same level of recognition and protection to all its citizens on an equal basis.
"As we said in New York, to do otherwise is an affront to equality and respect for human dignity."
Published 23 December 2010