Jeremy Browne: "torture violates human rights and human dignity"
Foreign Office Minister Jeremy Browne has written an article about the UK government's vision is for journalists, lawyers and activists to be treated fairly and to be able to speak freely in every country.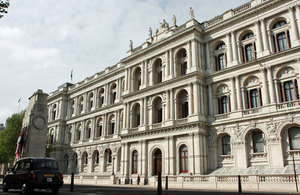 "The government has a clear position on torture. We do not do it, we do not approve of it and we do not believe it has a place in the modern world. We find the practice abhorrent: it violates human rights and human dignity, and has a wide-reaching impact on both individuals and wider society.
That is why the government will be holding an independent, judge-led inquiry into allegations that Britain was implicated in the improper treatment of detainees held by other countries in the aftermath of 9/11.
Related police investigations must first come to a conclusion, but we are committed to establishing the full facts and resolving all of the outstanding issues. People also want to know what Britain is doing to put pressure on other governments - those that still believe it is acceptable to gain information through torture.
In 2011, the Foreign and Commonwealth Office established a new group on torture prevention, composed of academics, lawyers, UN and Council of Europe experts and representatives of Amnesty International, the Association for the Prevention of Torture, Freedom from Torture, Human Rights Watch, the International Centre for Prison Studies, Penal Reform International, Redress and the World Organisation Against Torture.
I have just chaired the second meeting of the group and we discussed how to deliver real actions to reduce the use of torture in the world. So what are we doing? Where are we doing it? And why are we doing it now?
2011 played host to a range of significant global events, in particular the Arab spring, that led to huge changes in Libya, Egypt and Tunisia among others. These events brought into focus again the need for the UK to have an active international policy on torture. Only recently there have been claims of human rights abuses in Libya, and we have urged the transitional government to put processes in place to prevent further abuses and to hold those responsible to account. We are developing projects to help them with prison reform. The government in Libya faces a new and difficult situation but it is vital that it breaks with the past.
In other words: we know we are against torture, but we need to share our knowledge of human rights, policing and prison management to help prevent torture in other countries.
There is an absolute prohibition on torture in international law, which is contained in various treaties and is a rule of customary international law, binding on all states. Emphasising this prohibition is crucial to the government's foreign policy. Preventing torture and tackling those who practice it are essential components of safeguarding Britain's security; and they are integral to fair legal systems and the rule of law. Torture prevention work also reinforces our consular work when British nationals imprisoned abroad allege mistreatment.
Last March, the FCO updated and reissued guidance for our own staff on reporting information or concerns about torture and mistreatment overseas. This was done to ensure that our response to torture and mistreatment is as strong as it can be. The guidance reiterates the longstanding policy that our staff must report any abuses so that, when possible, we can take action.
This is just as true in countries closer to home like Belarus as it is in better-known offending countries such as China and Pakistan. Wherever we know about people being ill-treated, we must act. To do otherwise would represent an abandonment of our values as a society.
We also published a torture prevention strategy in October, which brought together our main goals of: ensuring there are legal frameworks in place that are enforced to prevent and prohibit torture, developing states' political will and capacity to prevent and prohibit torture, and helping organisations on the ground, government and non-government, to get the training they need to prevent and prohibit torture.
Our core aim continues to be to encourage states to sign, ratify and implement the UN Convention against Torture and its Optional Protocol. To assist this process, the government has funded activities in Brazil, Colombia, Egypt, Indonesia, Lebanon, Morocco, South Africa and Tunisia.
We know that we face a long and difficult road ahead. But our vision is for people to be treated fairly and able to speak freely in every country. We should never be comfortable with a world where journalists, lawyers and activists endure ill treatment for criticising their governments. This is a core part of what this coalition stands for, and we will continue to fight for justice and equality wherever and whenever we can."
This article first appeared in the Guardian's Comment is Free on 31 January 2012.
Published 1 February 2012