Jeremy Browne receives petition from Open Doors
Foreign Office Minister Jeremy Browne met with Alice Jones and Lisa Pearce of the charity Open Doors UK, to receive a petition against the UN Defamation of Religions Resolution.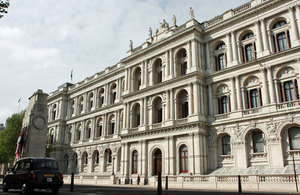 The global public petition was signed by 370,000 people from more than 70 countries to say 'yes' to religious liberty and 'no' to the Defamation of Religions Resolution tabled in the UN.
The UK supports this petition, and is committed to protecting the right to freedom of religion and belief. The concept of Defamation of Religion is inconsistent with international human rights law, which exists to protect individuals not religions. The restrictions on fundamental freedoms that it seeks to impose would put in danger the very openness and tolerance that allows people of different faiths to co-exist and to practise their faith without fear.
Published 6 December 2010