Jeremy Browne presents Suu Kyi birthday messages
Foreign Office Minister Jeremy Browne MP presented over 120 pages of birthday messages for Aung San Suu Kyi to the British Ambassador to Burma, Andrew Heyn in London today.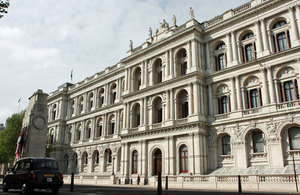 Jeremy Browne presents Aung San Suu Kyi's birthday messages to HMA Rangoon, Andrew Heyn
More than 650 birthday messages in total were posted by well wishers on the Foreign Office's dedicated Burma Facebook page since her 65th birthday last month. Andrew Heyn will now pass the messages to Aung San Suu Kyi's representatives in Rangoon.
Jeremy Browne MP was amongst those who wrote a message of support to Aung San Suu Kyi stating that:
"Your courage and leadership are an inspiration not only to me but to thousands of people globally. We hope that you and others who are similarly held in detention are released and will one day soon experience a free, stable and democratic Burma."
Andrew Heyn previously acknowledged the impact of the Facebook birthday messages and the activism of the page's followers with a post that read:
"I would like to take the opportunity to also pay tribute to the wide range of inspiring activities many of you are involved in to mark this special occasion and to commend the efforts of others around the World who work so hard to try and bring freedom and democracy to Burma.
Your actions do not go unnoticed and help to remind Aung San Suu Kyi and the ordinary people in Burma that we are committed to bringing positive change to the country."
Aung San Suu Kyi has spent more than 14 out of the past 20 years under house arrest following the National League for Democracy's victory in the 1990 Burmese general election. She is one of over 2100 political prisoners held by the Burmese regime.
Today's presentation took place before a meeting between Foreign Office experts and partners from NGOs, academic bodies and think-tanks to discuss future UK policy in Burma.
Speaking at the presentation Jeremy Browne emphasised that Burma is a high priority for the Government and the UK is committed to pressing for democratic reform, respect for human rights and poverty reduction in Burma. He also stressed his concern at the continued persecution and discrimination faced by ethnic groups in Burma and reiterated the UK's view that elections due later this year will not be free or fair.
Published 8 July 2010