Jeremy Browne meets NGO Directors to discuss human rights
Foreign Office Minister Jeremy Browne had an introductory meeting with the directors of eight major NGOs today to discuss the coalition Government's approach to human rights.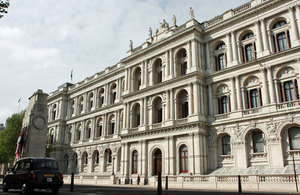 The Minister visited the London headquarters of Amnesty International UK, where he had the chance to hear first hand the key human rights challenges in the years ahead. He also showed his support for an NGO campaign highlighting the plight of political prisoners in Burma, by writing the name of a prisoner on his hand, having his photograph taken and adding it to a large photo montage.
The NGOs represented were: Amnesty International UK, Human Rights Watch, UNICEF, Global Witness, Saferworld, Article 19, Womenkind and Minority Rights Group.
Jeremy Browne said:
"I would like to thank all the NGOs I met today for what was an extremely insightful and productive introductory session. Their knowledge and experience will be invaluable to the new coalition Government as we develop our human rights policy in the weeks and months to come. It is a partnership I wish to deepen in my role as Minister for Human Rights.
"The Foreign Secretary has said that we will pursue a distinctive foreign policy that upholds the highest values in our society - including unwavering support for political freedom, human rights and poverty reduction. This Government will place human rights at the very heart of its foreign policy."
Kate Allen, Director of Amnesty International UK, said:
"It was reassuring for us to hear that the minister believes that the human rights agenda will play a central role in the work of the new government and we look forward to seeing this commitment translate into action, both with strategic partners and the wider international community."
Published 30 June 2010