Jeremy Browne is visiting Chile
On the first day of his visit to Chile, Jeremy Browne met the Chilean Minister for Foreign Affairs along with senior officials from the Chilean Navy and members of Congress.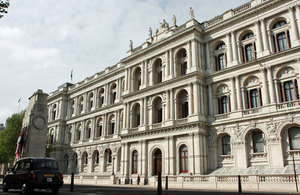 Jeremy Browne MP in Chilean Navy Headquarters.
Jeremy Browne is the first minister of the new UK Coalition Government to visit the country. After his call on Mr Alfredo Moreno, Chilean Minister for Foreign Affairs, in Santiago they made a joint statement about the return of three church bells to Chile, which were bought by a British merchant following a fire that completely destroyed Santiago's main Jesuit Church in 1863. The bells, which are part of Chile's heritage, will be taken back to the country from Wales as the United Kingdom's gift to Chile's bicentenary celebrations.
In the afternoon, Minister Browne travelled to the port of Valparaiso to call on senior officials from the Chilean Navy. He also visited the National Congress, where he met with the Presidents of both Chambers and also with representatives of the Chilean-British Inter-Parliamentary Group .
Jeremy Brown MP visits Chile - Day 1
Jeremy Browne MP visits Chile - Day 1
Published 11 August 2010