JCVI advises a spring COVID-19 vaccine dose for the most vulnerable
The Joint Committee on Vaccination and Immunisation (JCVI) has advised an additional spring booster dose for the most vulnerable individuals in the population.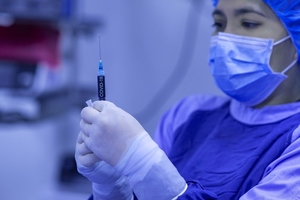 Immunity derived from vaccination declines over time and many of the oldest adults received their most recent vaccine dose in September or October 2021.
These individuals are at much higher risk of severe coronavirus (COVID-19). Therefore, as a precautionary strategy to maintain high levels of immunity, an extra spring dose is advised around 6 months after the last vaccine dose for:
adults aged 75 years and over, residents in a care home for older adults

individuals aged 12 years and over who are immunosuppressed, as defined in in the COVID 19 healthcare guidance Green Book
The types of vaccine offered for the spring dose will be as follows:
for eligible adults aged 18 years and over, 50mcg Moderna (Spikevax) vaccine or 30mcg Pfizer-BioNTech (Comirnaty) vaccine

for eligible persons aged 12 to 18 years, 30 mcg Pfizer-BioNTech (Comirnaty) vaccine
Despite uncertainties around how the pandemic will develop through the summer, the JCVI believes winter is likely to remain the season when the threat from COVID-19 is greatest, both for individuals and the NHS and care homes.
As such, the JCVI has provided additional interim advice to ministers for the purposes of forward planning that a further booster in the autumn of 2022 is likely to be advised for people who are at higher risk of severe COVID-19.
It remains too early to set out precise details of what that programme may look like, but the committee will provide more definitive advice in due course.
Professor Wei Shen Lim, Chair of COVID-19 vaccination on the JCVI, said:
Last year's booster vaccination programme has so far provided excellent protection against severe COVID-19.

To maintain high levels of protection for the most vulnerable individuals in the population, an extra spring dose of vaccine is advised ahead of an expected autumn booster programme later this year. 

The JCVI will continue its rolling review of the vaccination programme and the epidemiological situation, particularly in relation to the timing and value of doses for less vulnerable older adults and those in clinical risk groups ahead of autumn 2022.
UK Health Security Agency press office
Nobel House
17 Smith Square
London
SW1P 3JR
Published 21 February 2022