News story
Javid meets universities to discuss improving social mobility
Universities, schools and employers discussed creating opportunities for those from disadvantaged and black and ethnic minority backgrounds.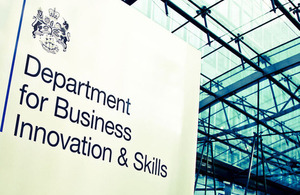 Creating greater opportunities at England's universities for those from disadvantaged and black and ethnic minority backgrounds (BME) was the focus of a special Downing Street meeting today (1 February 2016).
Representatives from English schools, universities and UK-wide employers met today with the Prime Minister, Business Secretary Sajid Javid and Universities Minister Jo Johnson to discuss what more can be done to improve social mobility in higher education, including the new plans announced yesterday (31 January 2016) to place a legal duty on universities to publish statistical data on admissions by gender, class and ethnic background, and how this could be used to challenge under-representation.
Those attending included Minister for Childcare and Education Sam Gyimah, representatives from the Russell Group and the vice-chancellors of the universities of Oxford, Cambridge, Bristol and King's College London. Along with members of the government's Social Mobility Advisory Group, including Professor Les Ebdon, Director of Fair Access to Higher Education, and representatives from employers PwC who were invited to advise on how broadening access at universities could help the long-term job prospects of under-represented students.
Among the schools taking part in the discussion was Phoenix High School. Serving the White City estate in west London, the school was described by Ofsted as "a remarkable school" which "continues to transform the life chances of students and their families." Two thirds of the pupils have learning difficulties or disabilities and just under half speak English as an additional language, yet the pupils' exam results are around the national average and 25% of the school's Year 13 students went to university in 2015, including Russell Group universities.
Business Secretary Sajid Javid said:
I believe passionately that everyone with the potential should have the opportunity to benefit from higher education. Universities have made good progress but we can't stand still. More needs to be done to improve access and outcomes for disadvantaged and BME students. That's why we've announced plans for a new transparency duty to shine a spotlight on where progress is being made and where institutions could do much more.
Themes discussed at the roundtable included:
what new data is needed to support further progress in access and success for disadvantaged students
how to enhance collaboration between universities, schools and educational charities to help more pupils with the potential to progress to university
how to encourage more innovative approaches to drive social mobility across the university lifecycle from retention to attainment to career progression
what action can be taken to accelerate progress towards meeting the Prime Minister's goals to double the proportion of students from disadvantaged backgrounds going to university from 2009 levels and to increase the number of BME students by 20% by 2020.
Universities and Science Minister Jo Johnson said:
Legislation for a new transparency duty will shine a spotlight on the whole admissions process and expose where offer rates for some of the poorest students and those from black and minority backgrounds are particularly low.
Professor Les Ebdon, Director of Fair Access to Higher Education, said:
I welcome the Prime Minister's continued personal commitment to fair access to higher education. He is right to highlight the wide gaps - both in access and outcomes - between students of different ethnic backgrounds. I will shortly be publishing guidance for institutions who wish to have an access agreement in 2017 to 2018. I will challenge them to match the Prime Minister's ambition so that anyone with the ability to succeed in higher education has the opportunity to do so, whatever their background.
Published 1 February 2016