Press release
Javid launches new drive to cut red tape
Business Secretary announces ambitious reviews into burdensome red tape in 5 key industry sectors.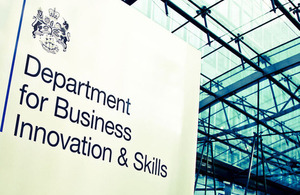 government commits to cutting red tape in the energy, waste, agriculture, care homes and mineral extraction sectors
first wave of sector reviews will help towards saving businesses £10 billion over the next 5 years
new Cutting Red Tape programme responds to the needs of business by examining both regulation and its enforcement and implementation – businesses are encouraged to report burdens and recommend other sectors which need change
The government is launching ambitious reviews into burdensome red tape in 5 key industry sectors, Business Secretary Sajid Javid announced today (16 July 2015).
The reviews are the first step to working with British businesses to axe unnecessary regulation and its poor implementation by a further £10 billion over the course of this Parliament. The government is appealing to businesses to come forward and flag areas for change through the new Cutting Red Tape programme.
Business Secretary Sajid Javid said:
I am determined to take the brakes off British businesses and set them free from heavy-handed regulators. The government's pledge to cut £10 billion in red tape over the course of this parliament will help create more jobs for working people, boost productivity and keep our economy growing.

For the first time, these reviews will look not only at the rules themselves but the way they are enforced. We want firms to tell us where red tape is holding them back and help us make Britain the best place in Europe to start and grow a business.
Examples where businesses have said regulation, and the way it is implemented, is getting in the way of doing business in the sectors under review include:
companies in the agriculture sector spend over £77 million a year on average – and lose 1.7 million working hours – complying with often duplicated information checks
Local Authorities, the Care Quality Commission and Clinical Commissioning Groups can ask care homes for similar information and carry out similar inspections – the sector is concerned about the costs of duplication and that it can divert staff time towards producing paperwork and away from caring for residents. For example, a small home with 30 residents may have to deal with 7 different public agencies asking for similar information
mining and quarrying companies have to apply for both planning permission and environmental permits, but once planning consent is given, environmental permitting can then require a different approach, requiring a new planning consent and thus delaying investments and incurring further costs
waste businesses have said that regulators could respond better to innovation, and thereby help the sector to maximise opportunities to recycle or re-use material that could otherwise end up in landfill
This programme of work will build on the better regulation measures announced in May as part of the government's Enterprise Bill. These include plans to extend and simplify the primary authority scheme, and make sure the activities of regulators contribute to the government's better regulation target. It also builds on the £10 billion of savings achieved by government through better regulation over the last 5 years.
The areas being reviewed are:
Energy – this will be a wide ranging review across the sector and will include regulation and its enforcement by government, the energy regulator Ofgem etc. It will seek industry views on potential areas for cutting red tape including on, complex licencing requirements, and burdens placed on new market entrants.
Care homes – a recent review of adult social care showed that the sector has significant concerns about the overlap of different inspection regimes. For example, a small home with 30 residents can find itself dealing with 7 different public agencies asking for similar information. A more rational approach would keep necessary protections but avoid wasteful duplication.
Mineral extraction – this industry is subject to strict environmental and planning regulatory control, the necessity of which is readily accepted by business. However, businesses have said there are unnecessary regulatory burdens around the interaction of planning and permitting regimes, and that enforcement and implementation practices, application processes and inspection regimes could be simplified and applied more consistently and coordinated better by the many different regulatory bodies a business must interact with.
Waste – this review will look at the impact of regulations across the waste industry, from production and processing to collection, disposal and treatment. It will be used to identify and remove barriers to advancing the sector while ensuring human health and the environment remain protected.
Agriculture – information requirements are a major issue for the agriculture industry. For the farming sector, research suggests that reporting on animal health and farming currently takes 1.7 million people hours per year at a cost of £77m. This review will build on DEFRA's existing programme of work to reduce burdens on farmers by seeking evidence of unnecessary burdens to report information to national and local government.
Notes to editors:
The sector reviews will look into whether legislation and its implementation can be simplified or improved, addressing issues such as where different regulators are asking the same company the same questions, or where guidance or requirements are unclear, confusing or unnecessarily burdensome.
The retail energy sector is not in scope of the energy review, but an opportunity to give views will be run at a later time to take account of the findings of the Competition and Markets Authority energy market investigation.
Primary authority allows a business to get advice on regulation from a single local council that must then be respected by all other councils. It reduces the time and cost to businesses of having to obey different rules. Case studies of companies who have so far benefitted from existing legislation on primary authorities are available upon request from press office.
Further information in relation to the review on enhancing the effectiveness of the Anti-Money Laundering and Terrorist Financing regime announced in the Productivity Plan will be provided in due course.
Businesses can feed back their thoughts by posting comments on the Cutting Red Tape website . Through Twitter: @CutRedTapeUK #CutRedTape, by email: cuttingredtape@bis.gsi.gov.uk or writing to: The Cutting Red Tape team, The Better Regulation Executive, Department for Business, Innovation and Skills, 1 Victoria Street, London SW1H 0ET.
Published 16 July 2015