World news story
Istanbul Decision Making Center visa processing times: Kazakhstan and Azerbaijan
Details of the current visa application processing times for Kazakhstan and Azerbaijan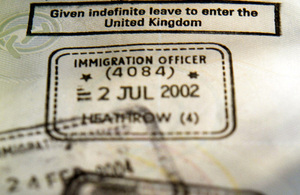 Processing Times
Current visa application processing times for the Istanbul Decision Making Center for the week commencing 04 May 2015:
| | | | |
| --- | --- | --- | --- |
|   | Global Service Standards | Current processing times | Current performance against our standards |
| Non-settlement | within 15 working days | 9 working days | within standard |
| Settlement | within 60 working days | 45 working days | within standard |
| Time to make Biometric Appointments across VACs | within 5 working days | 1 working day | within standard |
| Customer enquiry response times | within 20 working days | 2 working days | within standard |
| Complaints response times | within 20 working days | 5 working days | within standard |
These times can change on a daily basis.
Each application is unique and some may require longer processing times than those listed above. Visit our processing times page to see our globally agreed customer service standards and our recent performance against them.

Please allow 2-3 days for your passport to be returned to VAC or to you if your application included return courier.
Where we offer a priority service, this is only available for certain categories of applications. Please check https://www.gov.uk/visas-immigration or http://www.tpcontact.co.uk/ for further information.
Important note:
By opting for the Priority Service, it does not imply or guarantee in any way that you will be successful in your application. All visa applicants must meet the requirements of the UK Immigration Rules. The amount paid for the priority service, as well as the visa application fee, is not refundable if the visa application is refused or, in exceptional cases, takes longer to process.
Latest news
When we experience or predict drops in any of our service levels, we will let you know what they are, how you are affected, how long we estimate it will last and what we are doing to fix it.
Current delays:
None.
Forecast service interruptions:
None.
International Enquiry Service
If you require any visa information, or have a query about the visa application process, you can contact the UKVI International Enquiry Centre by email, telephone or web-chat. You can find telephone numbers for your country at https://ukvi-international.faq-help.com/. Calls cost £1.37 per minute; you will not be charged until you are connected to an advisor. Contact by email is free, and a ten minute web-chat will cost £4.
Additional Information
Please be aware that from July 2014, parents will also need to book an appointment at the visa application centre for any children under the age of 5 when applying for a UK visa. A facial image (photograph) will be taken of the child. They will not be required to provide anything else.
Steps to apply for a visa
Visit the UK Visas and Immigration website https://www.gov.uk/visas-immigration to complete your application and book an appointment to visit either a Visa Application Centre (VAC) or Temporary Enrolment Location (TEL). Visa Application Centres and Temporary Enrolment Locations are contracted by UK Visas and Immigration to offer customers services that include visa application and biometric collection facilities.

Once you have made your appointment, you will need to pay your visa fee online. Please read condition of payment and refund policy; mark boxes to confirm you have read and understood the information to make payment. You will be directed to a secure payment system.

Attend your appointment to submit your biometrics information (and any required documentation). For further information about visa application centres and facilities please visit http://www.tpcontact.co.uk/.

Your visa application and documents will be reviewed by the UK Visas and Immigration team in Istanbul and they will make a decision on issuing a visa.

Your documents will be returned to you.
IMPORTANT: If your default browser is a non-supported browser; please ensure you copy-paste the address to one of the tested browsers: Internet Explorer 10, 9 and 8; Chrome 30 and 29; Firefox 25. If you have used a non-supported browser to register, you must use an alternative email address or select 'Forgotten your password' at the log in screen stage when registering on a supported browser.
UK Visas and Immigration Istanbul
Published 18 November 2014
Last updated 6 May 2015
+ show all updates
Table is updated
Table is updated
The table is updated
The table content is changed
Tables are updated
First published.