Israel must address policies which could damage it internationally'
Minister for the Middle East wraps up Israeli leg of visit, comments on strength and depth of UK-Israel bilateral relationship.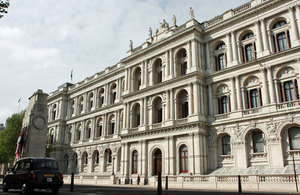 Speaking to a diverse range of politicians in Israel today, Minister for the Middle East and North Africa, Alistair Burt, made clear the strength and depth of the UK's bilateral relationship with Israel. Speaking afterwards he said:
"The UK has a strong, deep and comprehensive relationship with Israel. Our economic links which saw trade increase by 25% last year alone, the extraordinary security co-operation we share on issues such as the threat posed by Iran's pursuit of a nuclear weapon and partnership on high-tech issues such as Life Sciences illustrate this clearly. At the same time, as a firm friend of Israel it is important that we also raise concerns when appropriate.
"Today, alongside furthering key relationships and discussing the Middle East Peace Process and developments in the Occupied Palestinian Territories with the Director General of the Israeli Foreign Minister Rafi Barak, Deputy Prime Minister Moshe Ya'alon and a range of Knesset members, I made clear that it was important for Israel to address those of its policies which damage it internationally - most importantly its settlement and demolitions policy.
"I also raised concerns about its treatment of child detainees in the West Bank, the difficulties and discrimination faced by Arab Israelis, and widespread concerns about recent draft legislation on NGO finance. I emphasised the importance of meeting the vision set out in the Israeli Declaration of Independence - that Israel should be a homeland for the Jewish people, but also a country in which all its citizens are treated equally - and how the UK will continue to support this. I reiterated that the UK is opposed to boycotts."
On Thursday, Minister Burt will visit the West Bank and East Jerusalem for meetings with Palestinian officials.
Published 29 June 2011