Irish restaurateur Oliver Peyton awarded honorary OBE
Irish-born restaurateur Oliver Peyton was today presented with an honorary OBE (Officer of the Most Excellent Order of the British Empire).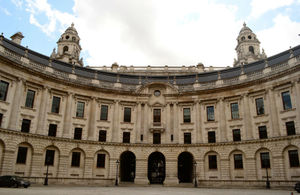 Tourism and Heritage Minister John Penrose presented this accolade in recognition of his service to the hospitality industry. Oliver Peyton is a renowned restaurateur and founder and Chair of Peyton & Byrne. He burst on to the London restaurant scene in 1994 with the Atlantic Bar & Grill and more openings followed including Coast, Mash & Air, and Isola.
In 2004 he launched Inn The Park, a restaurant and cafe in St James's Park and has continued to target opportunities within some of Britain's biggest national institutions. Peyton & Byrne now lead the way in public space dining with the Restaurant at the Royal Academy of Arts, The National Cafe, The Orangery and Pavilion both at Kew Gardens and the ICA Cafe Bar.
He is also involved in a number of TV projects, most famously as one of the judges in the BBC's Great British Menu.
John Penrose said: "It gives me great pleasure to present this honorary OBE to Oliver Peyton. His restaurants have been at the forefront of both architectural design as well as gastronomic standards and he has played a huge role in the London and British restaurant scene for nearly twenty years. The quality, variety and scope of British food has been transformed in the last few decades, and Oliver has been a leading light in the process. This honour is richly deserved."
Oliver Peyton said: "I am thrilled to have received this award, it's a magnificent honour. I am lucky enough to work in a business that I love alongside my family and to win this is the icing on the cake!"
Notes to Editors
Individuals who are not UK citizens or citizens of Commonwealth countries of which The Queen is Head of State are eligible to be considered for honorary awards for their services to the UK. It is not customary for The Queen to present honorary awards. The insignia of honorary awards for candidates resident in the UK are normally presented by the Government minister appropriate to the service rendered.

A photo from the presentation is available to download from the DCMS Flickr photostream. Press Enquiries: 020 7211 2210
Out of hours telephone pager no: 07699 751153
Public Enquiries: 020 7211 6000
Published 9 July 2012