Irish restaurateur awarded honorary OBE
Founder of Peyton & Byrne recognised for his culinary contribution.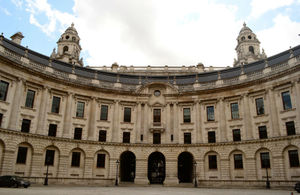 Oliver Peyton has today been presented with an honorary OBE in recognition of his service to the hospitality industry.
The founder and Chair of Peyton & Byrne originally burst on to the London restaurant scene in 1994 with the Atlantic Bar & Grill, later followed by outlets including Coast, Mash & Air and Isola.
In 2004, the Irish-born restaurateur launched the eco-friendly Inn The Park, a restaurant and cafe in St James's Park.
Peyton & Byrne now leads the way in public space dining with outlets including the Restaurant at the Royal Academy of Arts and The Orangery and Pavilion, both at Kew Gardens. Mr Peyton is also involved in a number of TV projects, including judging the dishes on BBC's Great British Menu.
Tourism Minister John Penrose, who presented the OBE to Mr Peyton, said: "His restaurants have been at the forefront of both architectural design as well as gastronomic standards and he has played a huge role in the London and British restaurant scene for nearly twenty years.
"The quality, variety and scope of British food has been transformed in the last few decades, and Oliver has been a leading light in the process. This honour is richly deserved."
Mr Peyton said: "I am thrilled to have received this award, it's a magnificent honour. I am lucky enough to work in a business that I love alongside my family and to win this is the icing on the cake."
Further information
Published 9 July 2012