News story
Iranian investigation into death of detained blogger is missed opportunity for justice
Foreign Office Minister Alistair Burt has said that the Iranian investigation into the death of the blogger has failed to deliver justice.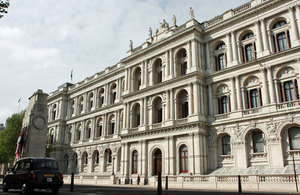 Marking the 40th day anniversary of the death of Sattar Beheshti, Foreign Officer Minister for the Middle East Alistair Burt said:
"It is now forty days since the blogger Sattar Beheshti died in custody in Iran. I would like to use this occasion to extend my condolences to his family. That the Iranian authorities instigated an investigation into Sattar's tragic death should have been a positive step. However, once again the authorities have failed to deliver justice. Neither Sattar's family who have reportedly faced harassment and threats from the security services, nor Sattar's countrymen and women have been given credible answers about the events that led to his death. Instead, the state-controlled media and the parliament have dismissed his death as a heart attack brought on by a fear of arrest.
"Sattar was right to be afraid of the security forces and what could happen to him in jail. The bruises on his body – which the authorities have abjectly failed to explain – are almost certainly a result of mistreatment and brutality that he – like so many others – suffered in detention. We are deeply disappointed that having taken the initiative to investigate, Iran has been unwilling to hold those responsible to account. The sacking of the head of Cyber Police will not stop the security and detention forces from operating with impunity. Systemic change is needed to bring about a more transparent and accountable system."
Further Information
Previous statement on Sattar Beheshti
Follow Foreign Office Minister Alistair Burt on twitter @AlistairBurtFCO
Published 13 December 2012